grad school, politics, knitting and other meanderings. And not enough time for any of it.
: : email knit wit : : knitmemoretime@gmail.com
---
Friday, November 25, 2005
moving on

This is my last post on

knit me more time

. This is sad in some respects as this was my first blog and I've been posting here for 1.5 years. But, I feel I have outgrown it in many ways- and when I feel that tug to move on and out, I have to follow it. I am thus announcing my new blog

watershed

. I've been posting on it for a couple of days. It is a wordpress blog with some great features blogger just doesn't have. Comments are back and I am very happy with the title, with no longer being "knit wit" and with being able to categorize my posts. I have some work to do on it, though, as right now I am just using a standard template. I need to move the blog to my own server before I can mess around with the template (or better yet, make my own- but I probably don't need that distraction right now).

So farewell

knit me more time

!

Change your links and come and visit me at the

watershed

!



posted by knit wit | 11/25/2005 04:01:00 PM

Wednesday, November 23, 2005
the predictable ups and downs...

...of grad school are becoming a little

too predictable

and and sometimes even, well,

boring

. Up: taking about dissertation with a visiting professor Down: a not-so-great grade on a stats exam Up: a bunch of great conversations with my advisor in the past few weeks Down: a probably not-so-great conversation today about said stats grade Up: increasing feeling of competence in grad school Down: having that yanked right out from under me Up: having a non-awkward time at a potluck with mostly faculty Down: crying in my office the next day over sadistics Up: knowing it is *just* stats Down: needing to get through it to get a freakin' phd I road the bus home last night with another grad student. We talked about all of these ups and downs. We talked about just being able to literally hang on. We questioned our own sanity for even being here. At least we're in the craziness together. Thanksgiving is tomorrow- it will be so very nice to take a day and relax. And I am actually looking forward to spending the weekend writing. It is good to be working on something new- feeling progress and movement forward. I'll just hang on to that for now!

update: meeting with my advisor about the sadistics exam wasn't even close to a "down" as now I feel better. *whew*



posted by knit wit | 11/23/2005 07:12:00 AM

Sunday, November 20, 2005
lobstahs love guinness


Last night we went out with friends to eat at Claddagh. The food was okay, the company was great, and the 2-part pour method of guinness was

amazing

. On the way out, I noticed this poster. Wow.

My two most favorite things!

I must own this.

There isn't one on ebay right now- I'll keep looking. I am thinking of changing the name and look of my blog. It feels old- outmoded, and that I have outgrown the frantic-sounding title. Yeah, I do need more time, but I do not want my life defined as a struggle against time anymore. I am also not knitting much (a few rows every now and then doesn't really add up to much getting completed) and I am tired of being Knit Wit. Changing it to "Lobsters love Guinness" is tempting... but I have other ideas in mind. You'll see soon enough.

posted by knit wit | 11/20/2005 03:12:00 PM

Friday, November 18, 2005
behind the times at the life cafe


I just noticed that they made a movie version of

Rent

. (It also seems they remade

the Poseidon Adventure

, and

the Fog

- how completely unnecessary!) Jeez. I tend to be a purist about these things- I don't think they should have made a movie out of an incredible musical like

Rent

, especially this one. It just belongs on the

stage

- not on film. And isn't it kind of

not

about this generation of college kids? Or is the movie targeting those of us around 30 who lived near nyc and around a lot of theatre people? I haven't listened to

Rent

in years. I still probably know all the words by heart. It opened at the Nederlander while I was a theatre major (10 years ago), and as soon as we found out they left the first 2 rows open until the day of the performance for students, a whole bunch of us spent the night outside the theatre to get tickets as soon as they opened (well, it wasn't really the entire night- we were out at some club until 3am or so and then decided to try waiting for tickets). It was the original cast, relatively unknown at the time, and one of the very best shows I have ever seen. This musical was about us and it had total cult status like nothing else did (even more than

the Rocky Horror Picture Show

). Being the irritating theatre majors that we were, we used to sing songs from it all over the place- on the train, on the street, in diners etc... and probably annoyed the hell out of a lot of people. But, like I said, I haven't listened to

Rent

in years- it was a part of my life back when I used to have conversations about worshiping Stephen Sondheim, but not any more (

thank god

, although I will still argue Sondheim is

the

musical genius). I am more excited about the remastered dvd of the

Sound of Music

(that would make such a great holiday present, hint, hint).

posted by knit wit | 11/18/2005 07:42:00 AM

Wednesday, November 16, 2005
cursing my name


Nina over at the ocean has sent out a challenge for those of us who love the change of season from "nice to awful" (as she says) to prove our love. I don't know how to prove it, but I know that the shift to cold weather lifted my spirits today. A woman I work with told me she woke up this morning "cursing my name." I found that kind of harsh, but whatever. Why? Because I

love

the cold, the barren trees, and even snow. I even love the kind of snow we are having today- drifty and crispy in the cold, cold air. I was couldn't help but smile today as my face felt all frosty at the bus stop. I stood at the front window of Bascom Hall for a while more than content with the snow falling on trees that still had orange leaves. I know, I am not in the majority. I might even be totally nuts. I don't love summer. I really hate the heat. It makes me feel sick- frantic, not hungry etc... There is an episode of the

Twilight Zone

were the temperature of the world is rising rapidly, and people are trapped, stifling, dying from the heat. That

terrifying

- one of the most terrifying things I can think of (next to the episode with the man who loves to read but can't find time, survives the end of the world, finds a libary, is thrilled with having all the time in the world to read, and then shatters his thick glasses).

posted by knit wit | 11/16/2005 06:49:00 PM

Sunday, November 13, 2005
really?

Following in sep's footsteps, I took an online quiz. I don't know a whole lot about Kristeva. Some is true to my interests- intertextuality, semiotics... but not so much abjection or the psychoanalyst part (and I usually shudder when I hear anything about Lacan). At least I'm not dead!
You are Julia Kristeva! You were a student of Roland Barthes, and came up with such important notions as intertextuality and abjection. You are a semiotician, psychoanalyst, scholar of literature, and dozens more things. You are not dead. What 20th Century Theorist are you? brought to you by Quizilla

posted by knit wit | 11/13/2005 10:02:00 PM

Saturday, November 12, 2005
when the going gets tough the tough make soup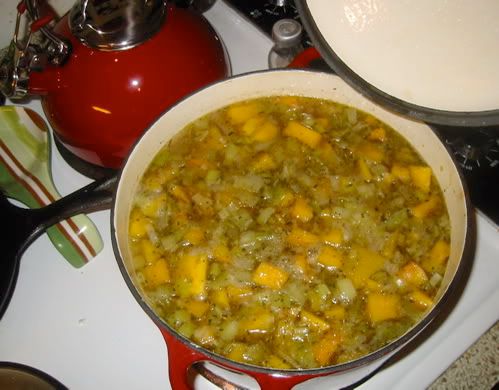 After a morning of studying statistics, and faced with tons of reading to do, I got hit with the soup-making bug. We had tons of squashes that needed to be used up- so why not make the most of the season and make a creamy squash soup? So I spent an hour hacking away at the squash, cutting it up into little chunks. The winter squash was so sweet, it smelled like melon. I just peeked at how it is progressing after being on the stove for 10 minutes- and it looks like my sore wrist will be worth it! I made this soup last year- it was

wonderful

and I ate it over rice for lunch the entire week. I just added a tad too much cayenne that time, so this time I added just a very, very little bit. I don't follow recipes, I don't own measuring devices, and I never make anything the same twice. But, if you want to try making this, here is roughly what is simmering away on my stove right now...
2 winter squashes, cubed
3 various-sized acorn squashes
1 large leek
6+ cups of vegetable stock
olive oil
3 gloves of garlic
1 package of cream cheese (not added yet in the photo above)
some rosemary
some ginger
some cinnamon
some tarragon
some pepper
a tiny-tiny amount of cayenne
So I started the garlic in the olive oil, and then added the leeks. I let those cook down for a while, and then added the vegetable stock and some of the spices. Once that was simmering, I added my chopped squashes. Cover and simmer over medium. At some point, when the squash is soft, I am going to use my potato-masher to mash some of the squash. I want some left chunky too. Then I'll add the cream cheese. Then I'll just cook it a little bit more (20-30 minutes) until it seems done. Right now it smells incredible. I'll post an "after" picture later on tonight! (okay, back to work, I swear)

posted by knit wit | 11/12/2005 07:18:00 PM

Friday, November 11, 2005
okay, I admit it.

This semester I took on too much. I really don't know what I was thinking. I really didn't have much of a choice this time. Usually I am not able to admit this. Sometimes when I take on too much, I am able to back out of something, or at least relax my expectations about accomplishing something. Not this time- if I could I would. There isn't any way out- it will just have to be like this and I will just have to trust that January 5th will come soon enough.

Here's everything on my plate:

* seminar paper draft/pre-dissertation proposal (due 11/29) * reading for that proposal * studying for a prelim (Jan. 4th) * 2-3 more sadistics exams (one this Thursday) * 5 more weekly reaction papers due for political science * readings for both seminars * working 20 hours a week Well I thought writing it all down would make me feel better. Nope. But there are rewards to all this, right? Passing the prelim and getting stats out of the way will feel so

wonderful

. My reward will be going to Maine and doing nothing for 10 days in January. Getting this semester out of the way means I only have one class left. And yesterday when I met with my advisor about my seminar paper, she wanted to talk about who would be on my dissertation committee-

pretty exciting

! There is a small, small light at the end of the tunnel, I guess.

posted by knit wit | 11/11/2005 07:39:00 AM

Wednesday, November 09, 2005
more progress

Maine became the final state in New England yesterday to put a law on the books banning discrimination against gay and lesbian people! Yay Maine! We will definitely be moving back to New England (and

not

to Texas) as soon as possible. (read about it here) And Long Island (where we used to live) has been taken over by democrats (both the Nassau and Suffolk legislatures)! When we lived there it was all about the GOP and supporting Bush so this is amazing. I am about to enroll for my last class ever! I'm taking a Journalism & Mass Communication class in the spring along with independent reading credits for my dissertation. I guess despite how crazy and impossible the next 2 months seems... things are progressing forward!

posted by knit wit | 11/09/2005 10:26:00 AM

Tuesday, November 08, 2005
some progress

Today I actually passed a statistics exam! By a few points, even! Yes, this means I have never passed one before... I came close to passing the last one. Hopefully this all means

sadistics

will be over for me for good soon! And I just saw a rerun of the White House press briefing on

Countdown with Keith Olberman

(my favorite news show). Holy crap! If you haven't seen one of these lately, you should go here and read the transcript or watch it. Journalists are actually acting like journalists. They are pounding Scottie (who might explode of these days) and the White House. It is just beautiful. It makes me tear up, it is so awesome, but so overwhelming that it has come to this. The transcript doesn't tell you who the questions are coming from, but it wasn't just Helen Thomas (one of my favorite people, ever) it was also other reporters- April (last name) from MSN totally lit into Scottie. Wow.

Just wow

. Even Chris Matthews did a whole show last night on how the administration

fabricated

the case for war. I am no fan of Chris- I mean- this story was not news to me or anyone else with a brain, but to see him do a

whole show

on it as

factual

, without spinning it as a crazy, liberal conspiracy theory is

awesome

. Now that is some progress. There is nothing I love more than watching the crack grow in the facade of this administration. Of course, not having him in office at all would be ideal, but at least I can cross my fingers and hope now that I am watching their demise. They are certainly not good at not being on top, are they?

posted by knit wit | 11/08/2005 07:14:00 PM

Saturday, November 05, 2005
a few of my favorite autumnal things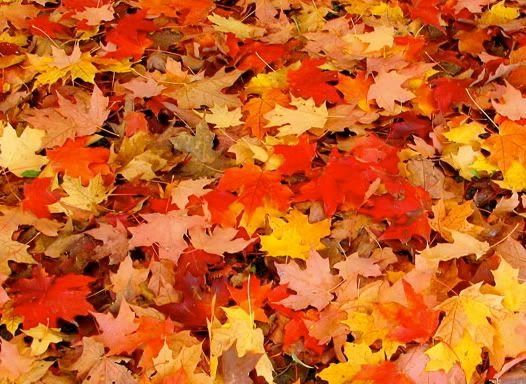 In a vain attempt to keep from panicking over all that I have to do within the next 2 months

(prelim studying, pre-dissertation paper, seminar paper, stats, work, reading etc...)

, I am try to focus today not just on the readings I have to do for class, but on the beautiful autumn day we are having. We ran errands this morning and I had a hard time concentrating on driving given the incredible colors of the trees against the grey sky. We left the co-op just as it started to rain. The rest of the afternoon I drank tea and sat in my office looking out at the grey, grey sky and the brightly colored leaves, listening to rain and distant thunder. And I have sweet potatoes in the oven for dinner. I just wish autumn lasted longer than 2 weeks here in Wisconsin. I love winter and snow, but hands down, this is my favorite season. Here's why.
the colors of the leaves on the trees and the ground- reds, oranges, browns- sometimes so stunning they take my breath away (these are also the colors I most often wear, but nothing is as stunning as what the trees are displaying)
the sound of rustling wind through dry leaves
crunching leaves under my feet as I walk- I try especially hard to walk through leaves instead of avoiding them.
sweet potatoes and parsnips (my 2 favorite vegetables)
making soup with squashes, leeks and potatoes (my plan for tomorrow)
cold, rainy days like today
wearing cardigans


posted by knit wit | 11/05/2005 06:21:00 PM

Friday, November 04, 2005
what kind of crap is this?

This article from BBC is exactly the kind of "science" that makes my blood boil. The "scientists" have found that men prefer "pretty" women who have higher levels of hormones as they in better evolutionary shape to have children:

"In evolutionary terms, it makes sense for men to favour feminine fertile women - those that did would have had more babies."

Ugh. Just ugh. This must be from the onion, right? Nope.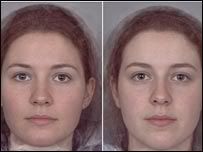 First of all, their sample is a serious joke. 59 photos of women, and 30 volunteers deciding whether or not these women are "pretty." How they can make any sweeping

universal

claims about the preferences of men for "pretty" women with that small, volunteer sample (not

random

and they use the word

universal

to describe

all

men's preference for pretty women) is beyond me. They also do not consider the

known fact

that beauty standards

not

historically static nor the same among all cultures, races and ethnicities. What might be considered attractive

right now by some volunteers in Liverpool

was not considered attractive by others years ago. For example, women in Victorian England painted their faces chalky white, which was considered very pretty. While it certainly isn't a sign of health, having a pale face was attractive and woman poisoned themselves with lead-based powders to achieve beauty. That is just one example of many of how measures of attractiveness change over time. And what about this photo they include? It is digitally altered to show what a "pretty" woman would look like (with higher hormone levels). The one on the right, I guess, that is what they consider a less-then attractive women, with lower levels of estrogen. First of all, the woman on the left is

frightening

- she looks like a plastic doll, or some kind of genetic hybrid person. I find the woman on the left much more attractive- she has more character and it doesn't freak me out to look at her. Jo agrees with me. There is my sample. See how subjective it all is? Or maybe their "logic" would be that it is that b/c I am gay and not looking for an evolutionarily fit woman to have a baby with? Oh my god- someone should study that! I'll leave you with this gem of a quote-

"Women are effectively advertising their general fertility with their faces."



posted by knit wit | 11/04/2005 08:13:00 AM

Wednesday, November 02, 2005
getting my head shrunk?

I decided this semester that seeing a therapist again wouldn't be a bad idea. It took me a while to get a recommendation for a new one. I finally found someone and met her for the first time last week. She is nice enough and I think I like her although I am unsure that I actually need to see an actual shrink instead of just a therapist. She passed my first screening test of not recommending medication in our first meeting. My last therapist was like talking to a good friend. This woman seems very nice but is considerably older than me- more like talking to a grandmother. She also knows (as she told me) many faculty members in my department.

Interesting

. And I can't get over that she is a

psychiatrist

, my last therapist was just a counselor. I just think it is funny and interesting that she seemed typically like I would expect a psychiatrist to be like- Freudian. She thought my immobilizing high standards for myself

must

come from my school-teacher mom. I told her

no-

while my mom may have helped with some science fair projects, I don't think it comes from her (or my dad) at all. So she gave me the task of thinking about powerful (mother-like) women in my life for our next session. There's some food for thought. I'm not totally sold on her yet- but I don't dislike her either. She was nice, and I guess I am willing to give her a shot.

posted by knit wit | 11/02/2005 06:18:00 PM

Monday, October 31, 2005
trick or treat

This is the 4th Halloween we have spent here. We have always purchased candy, and never have had a single trick-or-treater. We kinda felt sad and lonely about it. We have carved pumpkins and lights in the windows every year, but no one would ever come by. So this year I gave up and didn't even buy candy. Actually, I kind of forgot it was Halloween until I saw a professor today dressed up like a cat. That really threw me for a minute until I realized why she was dressed like that. Well I heard a knocking at the door a little while ago. 2 adorable little kids dressed as a bumblebee and a ladybird with their parents. I explained that I had nothing- but apples- and that we had never had people come by before. The parents were nice, and the kids were too little to care, but still we felt bad. We would turn off our porch light but it is on the landlord's timer-thing. Oh well. Hopefully no one else will come by. I have serious amounts of reading to do tonight. And I want to go over all my stats one more time before the test tomorrow. Happy Halloween!!

posted by knit wit | 10/31/2005 07:49:00 PM

Saturday, October 29, 2005
I'm back.

Yes, folks, I'm back. I have good reason for not blogging for the past couple weeks, I promise. Last week Jo went in for a routine mammogram, and then a suspicious lump sent her in for an ultrasound. We were laughing and joking with the ultrasound technician right up until the radiologist walked in and said it looked like cancer- then we stopped laughing. They scheduled Jo for an immediate biopsy and we found ourselves in one of the counseling rooms at the Breast Clinic talking about frightening things like

stages

,

treatments

and

pathology results

. It was all a pretty big shock to the system to say the least. We spent that weekend zoned out watching reruns of America's Most Haunted on the Travel Channel. Monday Jo went and had the biopsy. After a week of alternating between trying not to panic about breast cancer, panicking, and reading up on breast cancer treatment and stages online, we

finally

found out the results.

Benign

. We are both so very, very,

very

relieved. We were too exhausted from the week of stress to go out to celebrate, so we ordered a pizza and stayed home and watched a movie. Do radiologists get paid to scare the hell out of people? I suppose it is good for them to be on the safe side. At least a result of all this we are finally doing the legal stuff we never did before. So this weekend things are settling back to "normal"-- getting some school work done, studying for the upcoming stats exam (study group tonight and tomorrow), and going to a potluck tomorrow night. Oh, and Fitzmas was yesterday (a term I witnessed the birth of in the DU last week)! We have been obsessed with the CIA leak investigation. While I wanted Cheney and Rove indicted yesterday, I will settle for Libby and an ongoing investigation. A white house filled with crooks and criminals is sure to bring themselves down. And having a straight-shooting guy like Fitzgerald heading the investigation gives me a glimmer of hope that there is some part of our system left that can put the Bush Crime Family away. ... and I took a big leap and ordered this book from amazon.

posted by knit wit | 10/29/2005 04:50:00 PM

Sunday, October 16, 2005
(I would walk 500 miles)*

I'm sorry for my infrequent posting. This semester is flying by, and every day I think

"do I have anything worth blogging about? Any funny stories- interesting insight?"

and I come up with nothing. Nadda. This semester is filled with tons of uninteresting things such as memorizing statistics equations, reading hundreds of papers for the last 2 seminars I will ever take, writing reaction papers I

wish to god

I didn't have to write anymore, and cranking out posters and website updates at work. So here is what I can scrape together for you today- for this (now weekly) blog posting... -- I finished my 2nd Mary Russell book this week (A Monstrous Regiment of Women). Even though I am only reading on the bus, I am flying through books right now (I have to slow myself down while I am reading- thanks to grad school I now read too freakin' fast to enjoy fiction). I can't recommend this book (and the one before it) highly enough. Until someone recommended these to me (called them "feminist mysteries" as I remember) I had no idea that there were mysteries with amazing characters, great plots

and

intelligent feminist themes and references to feminist texts and history. Oh I just love these books- I can't even stand it. I am ready to read the 3rd now- or maybe I should pause from flying through this series right now to read the The Angel of Darkness therefore stretching out the Mary Russell series as long as possible? -- I've been dog sitting this weekend. And Jo has also had her own dog sitting job on the far west side of town. Between these 2 (overbooked) responsibilities and taking care of our own cats, we have spent the weekend running around and now haven't seen each other for 2 days. And yesterday I lost my wallet for about 20 hours. What a pain not to have a wallet! I have been fortunate never to have permanently lost one before (and Jo ending up finding my wallet in our car later on last night). My original plan was to take the bus back and forth to our place to take care of our cats yesterday. Without my wallet I was stranded without a bus pass, without an ATM card, and without cash. But it was a really beautiful fall day, so I thought walking there would be good for me. Well, it turns out it is about 3 miles each way. So I walked A LOT. And while I am used to walking around campus, this was

far more

than I ever do in a day. And then I had to walk the dog- a far slower a walk than what she would have liked. *Oh and I thought of the title of this post while walking yesterday. Remember that early 90's song? That really irritating one around the same time that

Ace of Base

was popular? Yikes. I don't even want to waste the time googling it to remember who it was (alright- I googled it and it was

The Proclaimers

and there they have a greatest hits cd!). The song reminds me of when I used to drive to the Maine Mall with a long-lost friend, Shannon, who used to want to go there for the purpose of sitting and checking out boys. I remember being so beyond bored with that. Okay that's all I have for you.

posted by knit wit | 10/16/2005 09:23:00 AM

Sunday, October 09, 2005
short trip to Minneapolis

I just got back from Minneapolis. I had written a long post from Minneapolis Friday but then blogger ate it. I wrote about the B&B we stayed at (an old sorority house), how cool it was to have my own room, and how the shared bathroom did indeed feel like we were in a sorority for the weekend. I don't think I have ever stayed in a hotel and had my own room- especially with a king size bed. The first night I slept there I had so much space that I ended up near the foot of the other side of the bed in the middle of the night not knowing which end was up and where I was. The trip was for a seminar- a bunch of us drove up on Friday and drove back today. The drive both ways was beautiful. I love driving. The leaves are changing and cows and farms are sprinkled everywhere. My time in Minneapolis was mostly a whirlwind of sitting in class, meeting people I didn't know and eating (especially great food I might add). Despite meeting all kinds of new people, it took getting me out of my surroundings (once again) to make me realise how much getting along easily with people matters. It is the people I get along with the easiest that I ought to stick close to. Friendship, like anything is, of course, work, but shouldn't be a chore either. So onward with the week then. Highlights will include getting back the stats exam, and hopefully not crying about it.

posted by knit wit | 10/09/2005 03:30:00 PM

Tuesday, October 04, 2005
the healing hands of autumn?*

It is October 4th. I live in Wisconsin. It is 76 degrees outside right now. The high today was in the 80s. I turned my AC on last night and again tonight for a little while.

This is all very disconcerting

. I

want

it to be crisp and chilly out. I want to wear turtlenecks and cardigans,

not

t-shirts. I know I am in the minority- but I really dislike the heat. Bring on

Fall

! And then after a month or so of crunching through leaves and drinking rum and apple cidar, (Wisconsin doesn't have enough of an autumn as it is) bring on some

snow

!

*that's an Indigo Girls lyric, folks.



posted by knit wit | 10/04/2005 10:43:00 PM


I kid the president*

Jo and I watched Bush's press conference in the rose garden this morning. Apart from the lies and the contradictions he spewed (how can he "not have a litmus test for supreme court judges"

but still

want someone who shares his "philosophy" is just beyond me), he just reduces me to tears sometimes. I mean, I know you know this, but the guy is a bumbling idiot. Yeah, yeah, maybe he is smarter and more calculated then he seems, but jeez is he just such a disgrace. I don't watch he speak much as it is too painful, but when I do I am frequently just

crushed

by the fact he is in office and still has another 3 years to fuck things up. Here's some wit and wisdom from Bushy-boy that I collected from the DU. "I'm looking forward to a good night's sleep on the soil of a friend." --George W. Bush, on visiting Denmark, Washington D.C., June 29, 2005 "It's in our country's interests to find those who would do harm to us and get them out of harm's way." --George W. Bush, Washington, D.C., April 28, 2005 "I can't wait to join you in the joy of welcoming neighbors back into neighborhoods, and small businesses up and running, and cutting those ribbons that somebody is creating new jobs." --George W. Bush, Poplarville, Miss., Sept. 5, 2005

*This phrase comes from Bill Maher and he always says it with affection and sarcasm. While Shrub is good fodder for jokes, but I would rather not have him around at all.



posted by knit wit | 10/04/2005 10:50:00 AM

Monday, October 03, 2005
indulging

Last week wasn't the best week (to say the least). By the time I took the bus home on Friday all I was pretty worn out and not at all looking forward to spending the weekend in my own personal hell (studying for statistics). I diligently spent Friday night studying, but also wound up indulging in some online shopping first. I don't like actually shopping in stores and I really, really don't like the mall, but I like shopping online. Especially for computer stuff and books. It was pay day, and I found myself ordering the next 2 books in the Mary Russell series along with a few books for class. Then I ordered a mighty mouse and an itrip for my ipod (so I can stop listening to Madison radio stations replay

Hotel California

and

Money

every 10 minutes while I drive around town). Then, I ordered a few bumperstickers. We took our election stickers off a while ago, and have had a blank bumper for a couple months. Soon we will have stickers that say "defend democracy: impeach bush," "war is not pro-life" and one that says "Coexist" will all kinds of different religious symbols. I've also been cooking a lot more- experimenting with meals so things don't get boring. I also like to spend time cooking when I feel stressed out as it just slows the day down a bit. When we went to Trader Joe's a few weeks ago I got a bunch of jars of their great pasta sauces, and a box of frozen breaded eggplant (only $2 for a huge box). It turns out that the breaded eggplant, sauce, shredded parmesan and rolls make yummy, quick, cheap, eggplant parmesan open-faced sandwiches. So those were my indulgences this weekend. And I met with a statistics study group yesterday. That was the most productive 4 hours I've ever spent studying for stats (despite our fair amount of complaining about how much we hated doing it- at least we all felt the same- misery loves company).

posted by knit wit | 10/03/2005 08:22:00 AM

Friday, September 30, 2005
this weekend

will be spent memorizing statistics equations. Nothing pisses me off more than memorizing crap I will never need to know again. And nothing makes me more angry than spending time memorzing, which has nothing to do with actually learning. But, there is no way in hell that this class is going to keep me from getting a phd. So I'm going to try not to be so angry about it and just get the exam out of the way. Ugh. In other random non-stats news. . . maybe soon I'll stop using my blog as a substitute for a therapist as I am currently shopping around for a real one. . . and I think I'll watch Harold & Maude again soon. I made an itunes mix of random Cat Stevens, and found myself thoroughly enjoying classic songs like "Trouble" and "Don't Be Shy". . . and there was something else I wanted to mention here, but I can't remember. . .

posted by knit wit | 9/30/2005 07:18:00 AM

Tuesday, September 27, 2005
tripping over myself

I have this tendency to make things

extraordinarily difficult

for myself. So very difficult that I loose sleep over what ought to be a simple, tiny thing that I blow out of proportion. This week the aforementioned 750 word paper triggered this lapse in reason. It is like I trip over myself- I am doing fine and then I get so very caught up in something, and progressively make it more and more complicated and difficult that it takes until the very last minute for me to realize what I am doing. It isn't that this happens a lot- maybe half a dozen times a year.

And I know I do this.

It is so frustrating that I

know

when I do this, but only realize what I am doing when I am already way past the point of panic.

Everyone else seems to know I do it too.

On Monday when I was freaking out about the small paper, my mom IM'd me that I am probably just making it too difficult for myself. I called Jo and suggested to her that I was making things too difficult for myself and she just said "of course you are- what else is new?" I even stopped into see my advisor who also quickly came to the conclusion I was making things too difficult, as usual, and managed to simplify things for me. So how do I go about

preventing

this from happening again? How do I see it coming? It isn't that I am totally clueless about myself- I have learned all kinds of tricks for preventing and dealing with stress. I know I take on too much, but I am getting better at taking care of myself through everything. This just really stumps me.

posted by knit wit | 9/27/2005 05:47:00 PM

Sunday, September 25, 2005
overworked, underappreciated

I have literally spent

the last day

(long, long hours) getting through a book I chose to read for a class. And all I have to do is write a

750

word paper on it. I chose to read it because I had never read any 18th-19th century feminist writing before and who knows when I am going to have a chance to endulge in such stuff in the future. Don't misunderstand- I am

so thoroughly enjoying

this book, but also it is also

killing me

that it takes me so long to read. I am not a slow reader, but the text is just dense and hard to get through. And there was so much other stuff I needed to do this weekend... I must also gripe a little about my job- the job that pays my tuition and the bills. I never feel right complaining about it, as it is a job that is so hard to come by. It is the very fact I am so grateful for the job that makes me feel even worse when it makes me want to scream. Last week I thought I felt caught up with my list of things to do, and then Thursday and Friday filled the list up again, with no end in sight of actually finishing anything. Then, to top that all off, the head-honcho I work for pulled me into his office to ask me about something that I know

nothing

about and have

nothing

to do with. When I politely told him that, he asked

what it was that I do

. I wanted to scream, but I just calmly listed the miriade of the dozens of things that I do. I mean, I do sit at my desk frantically working every day. I do everything the half-dozen people I work for ask me to do.

I swear I am not twiddling my thumbs for 20 hours a week.

And I always try to tell myself I shouldn't care so much. As long as I have been in the workforce (since I was 15 and shelved books at the library after school) I have always cared 150% about work and all the little issues and dramas that came with it. Even when I was going to school full time, knowing that jobs were only temporary stepping stones, I always cared so much that people would have to remind me that it wasn't my actually my career (so why should I care what is or isn't in my Borders personel file). Sometimes I wish I could be one of those people that glides through life with (the illusion, even) of not caring so much about every little thing- getting detentions in high school, not doing homework, showing up late to work, late to meetings etc... Who am I kidding? I would never be able to survive like that. Instead I just have to deal with the fact I do care. And maybe try to be a little more vocal about the work I do (instead of being so modest, maybe). Maybe working on

my own work

would also help out with my sanity. Whenever I don't have time to focus on my own writing, I always get irritated by stuff like this way too easily.

posted by knit wit | 9/25/2005 11:30:00 AM

Friday, September 23, 2005
wisdom from the side of a fridge

This is on the fridge where I am staying. I think this is one of the most

brilliantly true

things ever written. I've been thinking about it all day.

"Our deepest fear is not that we are inadequate. Our deepest fear is that we are powerful beyond measure."

-Nelson Mendela

posted by knit wit | 9/23/2005 04:03:00 PM

Thursday, September 22, 2005
the first day of fall

Fall is my favorite season. I love the colors. I love how the humidity is replaced by a little coolness in the air, and how the air rustles through the leaves that are just turning crispy. I know, I am

nuts

that I love it when it gets cold. I am even so crazy that I love the winter. Snow is one of my favorite things (right up there with fall leaves, ice cream, and beer) and getting dressed to go out in the cold (turtleneck, sweater, down coat, scarf, hat etc...) is so much better than heading out the door in a t-shirt.

Why

am I posting about my love of the weather? (I could also mention how much I love thundershowers, but that one last night really kept me from sleeping.) Well, because everything else in my life seems

so boring.

I

almost

posted today about feeling caught up at work.

Jeez. How exciting

. I almost posted yesterday about the frustrating, irritating, and cryptic political science theory text I had to read, but that is even more boring than blogging about work. I

nearly

blogged about feeling stressed about needing to take care of my blood pressure, but I made a doctor's appointment and ate half a bag of salt & vinegar chips instead. See all that you're missing? All I have for you today is that it is the first day of fall and that I am dogsitting. I have high hopes for getting lots of work done this weekend. The end of September seems very close all of a sudden and there is so much I could get ahead on. How amazing is it that after being a student for, what, like 23 years, I

finally

figured out that getting work/reading done sooner than the night before/hour before class is a

good idea

? Anyway, I am always very productive when dogsitting for professors. Something about being in their space (and maybe out of mine) makes me able to accomplish more than usual. I did most of my data collection and analysis for my masters thesis while dogsitting for my advisor. Would it have happened otherwise? Yes- but it would have taken longer. Tonight, though, I have accomplished

nothing

. I woke up with a

terrible

headache about the same time the thunderstorm hit last night (at 3am) and thus got very little sleep. The headache lingered all day and made me generally grumpy at work. I left early. Now that the dog has been out and has been fed, I am looking forward to being asleep within the next 23 minutes.

posted by knit wit | 9/22/2005 10:07:00 PM

Sunday, September 18, 2005
film review: Darkness

Last night we rented Darkness. Jo is reading reviews of it online right now and is so shocked that people hated it so much (5.3 stars on imdb- give me a break!). I guess if you like current horror films that did nothing for me (The Grudge, Hide and Seek etc...) then skip this one. This is a European film very much in the tradition of some of the greatest horror movies ever made (in my opinion, anyway) and it scared the crap out of me (few movies do that). The people working at Bongo video told us it was too slow. Sorry- this was not too slow- rather, it was beautifully filmed. Like a Kubrick film or a Dario Argento film. Every shot was freakin' beautiful. And it borrowed from some of my favorite horror movies- but not in a way that ripped them off. It had elements from some of my favorite horror films- Rosemary's Baby, The Shining, and Susperia. The end was not expected (something else that is hard to do) and the whole movie just leaves you really creeped out. I actually woke up in the middle of the night thinking about it, and then tried to forget it because thinking about this movie in the dark was starting to really freak me out. I would just highly recommend it. And while we are on the topic of films- I am so very,

very

sad that Robert Wise died this week. He directed so many of my all-time favorite films (The Sound of Music, West Side Story, The Haunting, The Day the Earth Stood Still). I think we own all of those on dvd. If I had a full day to spend (which I don't), I would watch them all in tribute to Robert Wise.

posted by knit wit | 9/18/2005 08:35:00 AM

Saturday, September 17, 2005
paddling the day away

Did I mention how much we love living on the creek? We just really

love

it. Not only is being able to plop our canoe in the water any time we want wonderful, but we love the birds and ducks it brings to our backyard. We love how late in the day (like right now) the low sunlight reflects off the creek and sparkles on the kitchen and office ceilings. The creek also brings people by our apartment all the time. I sit in my office and watch people paddle by, and then we end up heading out ourselves to canoe. Well, today we went out with the intent of going to Target and found a bunch of canoes and people in our back yard along the creek. I recognized one of them as someone I took a class with last semester. He introduced me around to the Friends of Starkweather Creek. We had always meant to join but never actually made it to a meeting. They invited us to canoe along with them and we dropped our Target plans and got out our gear. The group ended its trip at the nearby Olbrich Gardens. We ended up venturing on with the person I knew, and his friend. With them we canoed all the way to the Yahara river (which is really much further away than it looks on the map or ought to be) and down the Yahara to the locks. Then we had to canoe back. The whole trip was 3 hours of canoeing along side each other talking up a storm, while admiring the turtles, the ducks and enjoying the cool-ish breeze. It was a long trip- lots of fun so we will canoe with them again- but I got a lot of sun and exercise and now just feel sleepy. I can't even imagine what my arms will feel like tomorrow.

posted by knit wit | 9/17/2005 04:41:00 PM

Thursday, September 15, 2005
where did the week go?

This week was just a whirlwind of busy- not only am I not yet used to my insane schedule yet (let alone the workload that goes with it), a whole bunch of extra functions were added to the week as a Very Important* scholar visited our department. While I couldn't care less about Britany's baby or someone else's breakup with some country singer, this was person I really was looking forward to being about to meet and talk with. And talk with him I did! I drove him to a potluck, and found myself chatting extremely comfortably with him- we talked about all kinds of things, not even just sociology. I'm sure not every famous academic would spend so much time with grad students, but he was incredibly generous with his time. I talked his ear off about my past and future research, and then sat there and watched him read through one of my papers- thinking "

oh my god

- is he really reading that? is it

crap

? did I get his theory wrong?" After a quick read-through we talked about the paper, and then the next day I got

another

email filled with advice after he had read my paper more thoroughly.

Unbelievable.

That, added to work and everything else made the week exhausting. I came very close to falling asleep in a chair in the corner of the potluck I went to. I got some work done last night, listening to Bush's public-relations-motivated speech that Jo was watching in the living room. Interesting how they had

power

in downtown NO for his speech, and then took all the generators away afterward. The speech was such crap- like he cares about racial inequality. All his nice sounding plans for the Gulf region? They just sound nice- but really it will be a huge conservative social engineering project. Nice houses and neighborhoods that poor (African American) people won't be able to move back in to, and a nice profit for Haliburton. No nice speeches can take away the fact that there were 3 days when supplies could have been dropped in and people could have been rescued by the federal government and they weren't. At least this makes me feel somewhat better. My plan for this week? Read a couple books, and try not to leave the house. Oh- but the department potluck is Sunday. There go my plans to be a hermit the whole weekend! * "Very Important" in the sense that if there were a "holy trinity" of gender scholars, this guy would be one of them. One of his books would be one of the 3 major books in soc of gender (along with this book and of course, this book).

posted by knit wit | 9/15/2005 07:59:00 AM

Monday, September 12, 2005
seeking advice


This is a bird house that is hanging right above our back door. It is literally 1 foot away from the door, and not too far above our heads. Last summer, a cute little family of birds stuffed it with small twigs and made a home there. Well, the other day I was sitting on the porch, under the bird house, talking on the phone. I heard a terrible buzzing above me. Now I want to say that I generally like insects. I don't kill spiders. Unless a spider that I find in my house is really big, I leave it there. Bees, on the other hand, kind of freak me out. I have only been stung once- when I was like 3 and running around barefoot near a little wading pool- I stepped on a bee and it stung my foot. Can you see above in the picture the little yellow objects around the opening of the bird house? Yup- those are bees (yellow jackets maybe- I don't know). There are tons of them in there and we have no idea what to do about it. We just don't hang out much near the back door- we try to go in and out of the house really quickly. Moving it by hand is surely a very bad idea. I thought of maybe putting a big garbage bag around it and then moving it that way- but that doesn't seem like much fun. Where would I move it to? And how happy would the bees be once I sat them down in their new location and the bag fell away? I got a bat out of someone's house last week by trapping it in a big bucket and then setting it free- but that was a cute little frightened bat, and not a nest full of angry bees. So any advice?

posted by knit wit | 9/12/2005 07:34:00 AM

Sunday, September 11, 2005
a suggestion to the Illinois Tollway

Usually, when there is a toll someone has to pay, it is a good idea to let them know

how much

they will need to pay before they get to the tollbooth so that they can have the money ready. Maybe if you put the toll amount ($.80 or $1) on a sizeable sign (or sign

s

) on the highway before the tollbooth, then the person in the tollbooth would not have to get annoyed when a driver asks how much the toll is, and then has to scramble to get the change together. Not only that, it might also be a good idea to make sure that the signs under the tollbooth window have the

correct

information on them --not some seemingly random and incorrect toll information-- so that drivers do not prepare and then try to pass you the wrong toll amount. Maybe you, the Illinois Tollway, enjoy the confusion this creates. Maybe you like to keep people in the dark as they make them pay toll after toll. But those of us who only drive on your highway like once a year would appreciate a little more information to make traveling smoother. Better yet- why not just make people pay $5

once

instead of small amounts every 15 miles. (more on our adventure to Ikea and Trader Joe's later...)

posted by knit wit | 9/11/2005 08:46:00 AM