grad school, politics, knitting and other meanderings. And not enough time for any of it.
: : email knit wit : : knitmemoretime@gmail.com
---
Friday, August 06, 2004
creepy or cool? You decide.

Jo and I were running errands this morning, and on Monona Drive we noticed the car behind us driving a little strangely. They were next to us in the right lane, then they got behind us for a while. I was annoyed because we were trying to get over to make a right. Well, they pulled next to us again and asked us if they could take a picture of our bumperstickers. So we pulled over on a side street. She introduced herself as an advertising person, and introduced the guy with her as the advertising person for the Capital Times. They said they had been driving around looking for a car with bumperstickers for some advertising on billboards. We let them take a picture of the back of our volvo. I had recently updated my stickers with new ones from Rainbow Community bookstore so the entire back of the car is just covered. She said they would change the license plate to read "NO BUSH". Funny thing is, the stickers kind of identify me to people who know me. There is a "Maine: the way life should be" sticker. And a "SUNY Stony Brook" sticker. And "Righteous Babe" stickers. Unless there is another lesbian in Madison who went to SUNY Stony Brook, grew up in Maine, listens to Ani, and wants Bush out of office. Actually, that is kind of likely. So we thought it was all cool until we drove away, and then we started wondering if having someone a picture of the back of our car (with license plates) wasn't creepy. I guess not. It is highly unlikely that is how the FBI is conducting anti-terrorism operations these days (although you never know). Regardless, I think the back of my volvo, Matilda, is awesome and I think she will make the coolest billboard

ever

. So, if you see such a thing, you can name drop and say you know the owners of the car.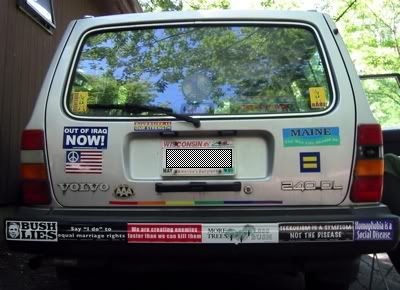 posted by knit wit | 8/06/2004 10:23:00 AM