grad school, politics, knitting and other meanderings. And not enough time for any of it.
: : email knit wit : : knitmemoretime@gmail.com
---
Friday, December 31, 2004
my high school on MTV

Some show called "on made" on MTV is featuring a student at my high school. It is probably going to be pretty funny- this student is preforming in our school's talent show "MOHIBA". The show is like a 100 years old and the name stands for "Morse High Bizarre". Well, let me tell you, the show is pretty dorky, and bizarre, and really low-budget and I would tune in if you can because it should be pretty funny. Just to give you an idea of the "talent" in MOHIBA: My sophomore year someone decided the sophomore class act should be "the ants go marching one by one". So, we all dressed in all black, with black stockings over our faces, and marched around the stage singing. My junior year we had a big argument about whether the junior class act should be aliens or hippies. Someone suggested we should be hippie aliens. We were, but I don't think it came across very well to the audience. 2pm central time tune into MTV.

posted by knit wit | 12/31/2004 08:51:00 AM


a short funny christmas story

I wanted to post about this from Maine, closer to christmas, but I forgot. A woman my mother works with has a daughter who is about 3. The daughter goes to nursery school. Much to her mother's horror (they aren't very religious- they are go to church twice a year or so) her daughter's nursery school put on a christmas play- with the manger and baby jesus etc... Well, her daughter didn't want to participate and told all the other children why "I don't care about baby jesus- baby jesus is dead so I don't care about him". She made all the other children cry. This kid could be my daughter! I would be so proud of her- speaking truth to power at nursery school!!

posted by knit wit | 12/31/2004 07:32:00 AM

Tuesday, December 28, 2004
last dispatch from Maine

After 9 days, I am heading back to Madison tomorrow morning. To make it to the airport in NH, we are leaving at 5am. Today we went to LLBean to exchange a couple things and to eat at our favorite restaurant in Freeport. This evening will be an early one- a last piece of the mince meat pie and trying to pack everything. Cross your fingers that my luggage arrives with me- there are too many goodies (new yarn, hand knit sweaters, new clothes and old pictures) coming home with me. So here is a picture of the old bridge and the new bridge over the Kennebec river here in Bath. The new bridge was built after I graduated from high school and I am not a big fan of it. It looks like a highway overpass. The old bridge is the green one and is no longer in use (there isn't even a way to get on it). But it is my favorite bridge and I don't think they should take it down. I have fond memories of watching fireworks from the bridge, feeling old enough to walk over it by myself, waiting on it for the draw bridge to go up and for ships to go underneat etc...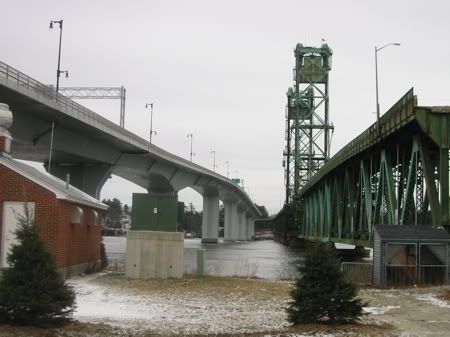 Here is my grandmother when she was in high school standing on the bridge when the highway (route 1) leading up to it was first built (I guess it was just a road leading up to it before). This is probably the 1920s.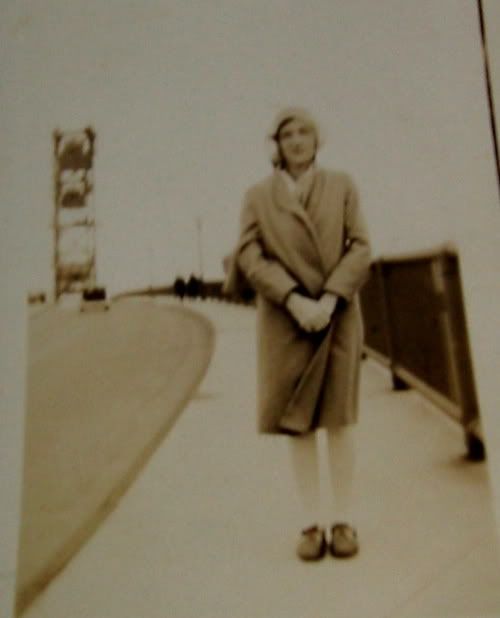 And here is an old family picture (1860s) of an unknown place where family on my mother's side lived. We think it is Smithfield, but it could also be Skowhegan. I think this summer we will take a drive and try to find the location. This picture started our whole search online for long lost family history. Through email, I met a distant relative in Ohio and filled her in on pieces of family history she was never able to learn.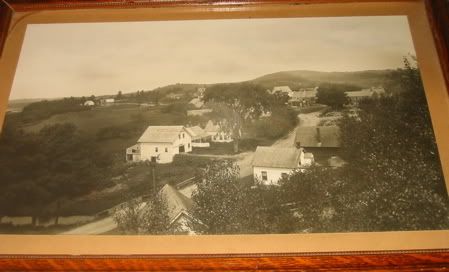 And as promised, the giant moose made out of car mufflers. It also lights up at night. It doesn't look like mufflers anymore, they have covered it with metal and painted it. It also doesn't look like a moose, but the old man at the car shop next door calls it a moose (and we think he made it). For those of you driving up the Maine coast, it is on Route 1 on the right just as you enter the town of Bath.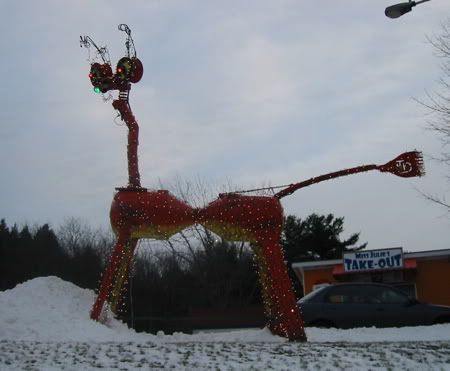 posted by knit wit | 12/28/2004 07:51:00 PM

Monday, December 27, 2004
cooking

A big part of being in Maine with family is food. My dad does all the cooking and makes amazingly yummy food. Here he is working on the mince meat pie (not really meat of course) which is my favorite. In front of him is the big bowl of potato stuffing.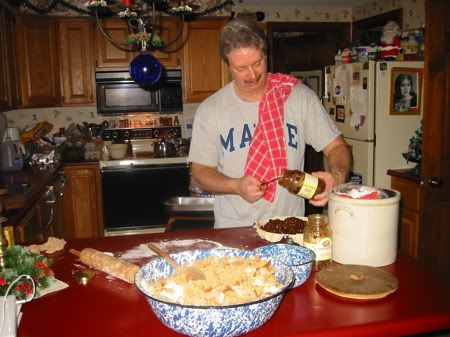 PS: The joy was in making the ginger snap cookies- there was not any joy in eating them as they turned out terrible. We threw them out.

posted by knit wit | 12/27/2004 05:19:00 PM


let it snow

We might not have had a white christmas here in Maine, but today we have lots of snow. I haven't blogged as much as I thought I would from Maine. It took me a couple days to really unwind when I got here but now I have been doing nothing else but drinking, eating and sleeping. So, here is a snapshot of the past few days:
4: the number of trips made to walmart with various people who needed last minute christmas gifts (walmart is the only store in the area, unfortunately)
30+: the number of W'04 stickers seen on cars/trucks/suvs
3: the number of trips in one day (12/24) made to Bookland, the bookstore I used to work at in HS
1 bottle of

very good

tequila shared with my brother over the 2 nights he was here
1 game of the Simpson's Clue played with the family
4+: glasses of Bailey's sipped while watching movies and playing Clue
5+: the number of conversations with people my parents know and I barely remember
15: the number of times my fafa (grandfather) told me he was proud of me for getting an masters degree
4: the number of adults (dad, maryann, donald and I) squished together on the couch christmas eve for the traditional reading of "the night before christmas"
2: the number of scarves knit (1 for dad and 1 for mom)
1 hat knit (sister)
1 trip to Halcyon Yarns to spend a chirstmas gift certificate
4: the number of skeins of Noro Big Kureyon purchased at Halcyon for 64 dollars
3: the number of stockings stuffed by my mother who will stuff stockings for us until I am at least 40
10+: the number of hours spent looking up ancesters online
Kent, England: where my mother's side of the family comes from
10+: the number of hours spent playing Sim City with sister
I promise that I will post pictures soon!

posted by knit wit | 12/27/2004 09:33:00 AM

Wednesday, December 22, 2004
ginger snaps

Here's a picture of cute downtown Bath taken from inside my mother's car. As you can see by the dirty window, all the cars are dirty here from the snow and the cold. That's why the picture is kind of blurry...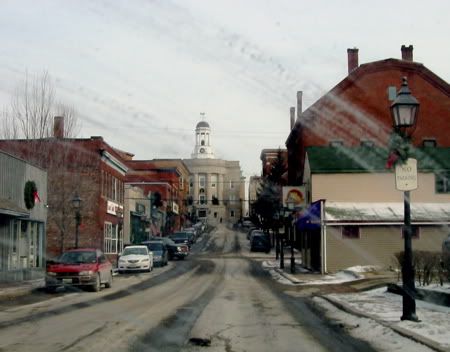 And for the knitters out there- this huge building is home of Halcyon Yarn! The store is the size of a warehouse. I'm heading there tomorrow for some pre-Christmas browsing... Notice the sign for "University College". I've never heard of it but the name is pretty redundant.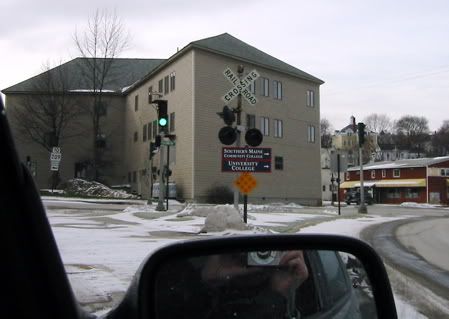 Today Maryann and I baked ginger snaps. We made quite a mess- including getting dad's spatula stuck in the molasses jar. The head of the spatuala fell off the handle so we had to use pliers to get it out. The cookies turned out pretty good- kind of hard though so we'll have to dip them in tea. Here's Maryann preparing to put the cookies on the cookie sheet. In the background is the christmas tree that we are decorating tonight.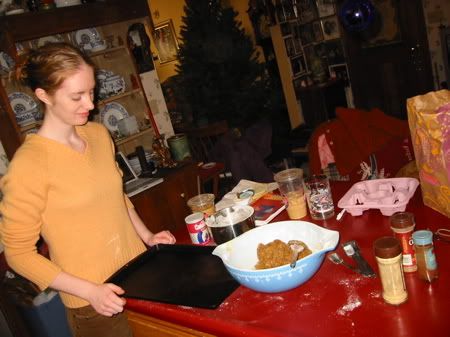 On the left is a bunch of pictures of my parents looking all young, cute and smiley, and me as a very little baby. On the right is a picture of my great-grandmother Amelia.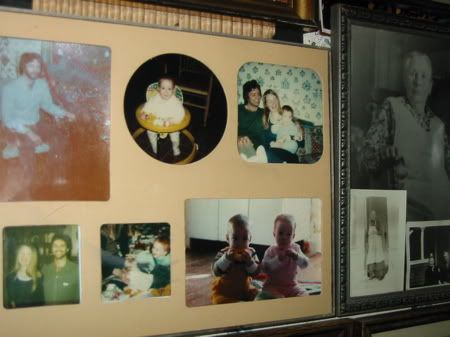 posted by knit wit | 12/22/2004 04:14:00 PM

Tuesday, December 21, 2004
holidaze in Maine

Tonight we went to a holiday concert at Portland City Hall. The holiday concert was a combination of Bell Ringers, some Organ playing, a choir, and a brass section. It was pretty fun- great music and the hall was filled with friendly Maine people. Everyone in Maine always looks familiar to me in a nice, homey way- even though I don't know all 1.2 million residents. Here are some concert notes...
The program had some great facts in it about the Kotzschmar Organ. I think organs are awesome- I love how they fill the entire room and I love watching people play them. This time I was close enough to see the organist's sheet music- 3 staffs of music, one for each hand and one for the feet. The organ player had a woman who was the "page-turner" standing next to him the whole concert, following along in the music and turning the pages. Funny though, that this woman was one of the smallest women I have ever seen, with very short arms. So, to turn each page was a major reach and almost stressful to watch her practically climb on the organist's lap to turn the pages. I wondered why she didn't have a stool to stand on- or maybe why they didn't pick someone with longer arms. Here are those "fun, fanciful and fascinating" (that's what it says, okay?) facts I promised about the organ:

"There are a total of 6618 pipes in the organ. If the pipes were laid out end to end, they would reach approximately 3.6 miles, or the distance of Portland's Back Cove Trail

(I grew up here and the distance of that trail, and the trail itself is unknown to me)

The main organ chamber is 60 feet long, 16 feet deep and 40 feet tall-- large enough to hold 66 Ford Windstar Minivans.

(huh? what is this a paid ad for Ford?)

The organ's wind chest has approximately 825 square feet of floor space. According to the Fire Department, up to 92 people could fit in there (even when the organ is playing).

(say what?)

The bell ringers were awesome. There is something about bell choirs I love- I think it is that the music is deconstructed down to each note which I different person has to play in sync with everyone else. It is pretty cool to watch and fascinating to think about. They show concerts like this on PBS this time of year- if you see it on watch it for a couple minutes and you'll see what I mean. I only wish bell ringers played more concerts of not christmas music.
The program for tonight's concert included the lyrics to some christmas songs- some particularly religious ones (not like rudolph, or frosty or anything fun like that). What was creepier was that the program states "the audience is required to rise and sing heartily". Huh?

Required

? What are we, in church or something? And

heartily

? Just because it said that, I did not sing heartily at all.
I'll take some pictures tomorrow and post them. I know my travel photos couldn't nearly be as beautiful or fascinating as Nina's incredible travel photos, but there are some strange things here in Maine you ought to see. Like the giant moose made out of mufflers glowing with christmas lights. Nina's travel posts made me feel like I was traveling with her (I only wish!) so I'll try to make everyone feel like they're in Maine. I'll leave out the crazy family parts though!

posted by knit wit | 12/21/2004 10:03:00 PM

Monday, December 20, 2004
post from the airport

[well really not

from

the airport because it turns out that wifi costs money] Thank you to Detroit Metro Airport's many large-screen TVs blasting only CNN for reminding me why I haven't watched the news since 11.2.04. Good god, it is

terrible

. Bush looking all smug since being handed (by the news) a "mandate". They keep showing him in a news conference today talking up Rummy's commitment to the troops. Give me a break- if he were that committed he would have found the time to sign death letters to the families of troops. I know, I know there are over 1300 at this point, but he didn't have to sign those all at once. Thanks to the long, drawn out violence of the occupation of Iraq, only a few to a dozen troops are killed on any given day. So, he would have only had to sign his name like a dozen times each day. What disturbs me more is that people are shocked but this blight on Rummy- like he was some superior compassionate person who was caught with his hand in the cookie jar.

Again

, give me a freakin' break. Now Cheney is on and it is just getting worse. They are showing clips of the Edwards v. Cheney debate and it is making me sad. My flight is delayed here in Detroit- my flight out of Madison left 45 minutes late and this one is half an hour late so far. I do love airport though, but I am not a big fan of having to be delayed in them for longer than expected. I like watching people. Like the old man in the bright sky-blue suit sitting across from me with a briefcase that looks like it is from 1935. In the Madison airport, I was watching (trying not to be creepy about it I swear) a very geeky looking girl. And I hope readers would know by this point that I mean "geeky" as a compliment. Anyway, if there was a stereotypical female geek she would have been it. She was very dowdy- librarian looking, with messy long mousy-brown hair and very thick glasses which she wore low on her noise. She was tall and wore pants that were slightly too short. She even had a pen behind her ear (I always try to do that but it doesn't work). She caught my eye because she spilled a huge pile of papers all over the floor and all kinds of travelers rushed to help her. I assumed they were papers and that she was grading- but I was also reading Dorothy Smith's "The Everyday World as Problematic" so I was trying not to totally imbue my privileged, outside-of-the-context perspectives on the situation. I couldn't hear what was being said, but she was striking up conversation with the people who were helping her. As this happened, another woman walked in- slightly younger than me and dresses so trendy it was painful and fascinating to look at her all at once. She rolled her eyes at the geeky girl (girl, I mean she was about my age probably) who was in her way picking up papers and then went to sit down (kind of precariously walking on very high-heeled boots). Well, the geeky girl, with all her papers collected looked around to find a seat and sat down next to the very trendy girl. They started talking- talking like they were old friends (although I heard them introduce themselves so they couldn't have been) and laughing about something. Then, the geek started grading papers (the stack was like 4 inches thick) and the trendy girl pulled out a book to read. As she did this I thought "I bet it will be the #1 book on the non-fiction bestseller list, Oprah-book

He's Just Not that into You

" and I chuckled out loud when I saw that it was. It was just an interesting contrast, the two of them. There was also a lesbian couple waiting to get on the plane with a cat in a cat carrier. This cat was very cut- looked a little like my cat Hermione and it made me wish I had brought her with me. As we all stood up, waiting to board the plane, I knew the couple with the cat was behind me. I heard someone else behind me say "can you believe traveling with that?" I assumed they were talking about the cat. A few minutes I turned around and saw the man behind me giving me a very disapproving look. I turned back around and heard him say to his companion "political views should be left out of traveling".

Huh?

I figured out at this point he must have been talking about the buttons I have on my back pack. Why would I take them off to travel? What harm do buttons that say "support our troops bring them home alive", and "love makes a family", and one that says "Bush" with a big line through it do? I am still sitting here and our flight is now 40 minutes late.

posted by knit wit | 12/20/2004 06:06:00 PM

Sunday, December 19, 2004
the reason for the season

Nothing like some more blog reading and posting before going on to finish this pesky seminar paper (16 pages down, about 5 more to go). I catching up on my blog reading this morning, I found this holiday-cheer-filled post and followed the link to the post on another blog that explains how "christ is not the reason for the season". I knew about the pagan origins of christmas and christmas trees before, but I have never read such a great account of the history of christmas before. Now don't get me wrong, its great that people celebrate christmas for whatever reason by spending time with loved ones, drinking egg nog and eating good food. I am all for those activities any time of the year. Growing up in a house where christmas decorations were numerous and very important, I will also admit to loving little stuffed santas, bows of holly, sparkly christmas trees and village snow scenes. The consumerism of christmas always bugged me- there's nothing like going to the mall in the weeks before christmas to make a person feel like scrooge. If I get one more catelogue with "christmas gift ideas under $100 or under $50 I might scream- who has money to spend that much on everyone? And that "keep the christ in christmas" crap always bugged me too. We have a neighbor who has such a sign on their lawn. As a very small kid I remember thinking in christmas eve church services (the budding feminist that I was) "what's all this crap about a man (god) and his freakin' son- why is this always about men?" Other factual things also bugged me- like why December 25th? And how, again, did Mary have a baby without, ah, sleeping with anyone? And why is it people still report to see her face in things like donuts? So, I am going home to Maine for christmas tomorrow. I haven't finished knitting all my christmas presents. I hope we have lots of snow, I hope to drink and eat a lot and I even hope to run in to a lot of people from my hometown in the grocery store. Christmas is just a lovely excuse for travelling, celebrating and seeing family and friends.

posted by knit wit | 12/19/2004 09:57:00 AM

Saturday, December 18, 2004
very last thing



Don't you hate it when the

very last thing

you have to do in a semester (i.e. a seminar paper) is the

very last thing

in the world you want to do?



posted by knit wit | 12/18/2004 03:24:00 PM

Friday, December 17, 2004
classic knit wit #2

This train wreck of a semester couldn't end without a couple more hilariously terrible incidents... (I do still have a seminar paper to write so it isn't

really

over yet)
I've achieved the pinnacle moment in a grad students' career. You might think that would be getting a masters degree- nope. It is actually crying in front of a professor and today I cried in front of my first prof. Actually, he deserved to be yelled at as he was being just horribly mean, but given that the way I express anger is through tears, I cried. While he seemed unphased (and even irritated) by my tears of frustration, he did agree to give me an incomplete and not to fail me. That's a relief I suppose. And I also no longer have to dread that first episode of tears in front of a faculty member.

[I

almost

cried in front of my advisor from panic over a lack of funding. She, however, stopped my crying by, well, um, telling me that she didn't have time for me to cry. So, I didn't cry. Its not that she was being mean- she just really didn't have time and she isn't one to do a lot of mollycoddling anyway]

I defended on Monday. But, I waited to hand my thesis into the library today (the deadline) because I needed to have my advisor sign it. So, this afternoon, after the aforementioned meeting where I cried in front of the professor, I cried some more on the couch in the TA office and then headed down the hill to hand in my thesis a little later than I expected. I got to the

Bindery

(funny word, I know) at 3:50pm to see that they close at 4pm. Well, I wasn't worried because I was prepared. I had my thesis printed on the special paper, with the cover page as per their guidelines on the internet, and signed by my advisor. Well, as soon as the librarian saw it she shook her head and said

"oh no- you can't put the month on there- only the year. You have to retype this cover page and have your advisor resign it."

Then, she looked up at the clock and saw the time. I said

"there isn't anyway I could do that in 8 minutes and I didn't think the month mattered. Today is the deadline, right?"

She answered

"It is the deadline so after today you'll have to get a 2005 degree and for that the deadline is in May."

Yeah, right.

No way in

fucking hell

- after my advisor pushed getting this done so I could have a 2004 degree date. I've been in school for soooo many years, that one year really matters. I expressed to the librarian that 2005 wasn't an option. At this point another librarian came in and offered me use of some white-out and his typewriter (yes,

typewriter

). I whited out the month, and centered the year on the cover page, all the while the first librarian watched me like I was going to cheat or something- maybe she thought I was cheating. I finished and handed it to her again and her personality

totally

changed-

"Congratulations! You have a masters!! And with 1 minute to spare!!"
Nothing like the last minute! So, I am now having a beer and starting to feel more relaxed. There are all kinds of gray hairs popping up all over my head- I wonder why.



posted by knit wit | 12/17/2004 05:10:00 PM

Tuesday, December 14, 2004
a self-reflective blog entry

I don't usually reflect much on my idiosyncrisies in this blog (I try not to bore readers with that anyway) but I feel inclined to do so tonight. As you know, I defended my masters this week and passed. Everyone since than has been encouraging me to celebrate- to somehow be more enthusiastic about this milestone. I haven't been able to muster much enthusiam and I wonder why. After my anti-climatic defense, I could only feel stunned and somewhat releaved. As the experience of defending sunk in, I could only think about the criticisms, the questions for improvement, and the challenge of moving on to the thesis published (rewritten first, of course) and then to go on to write a disertation. So, while I guess I should somehow feel different and be elated, I can only think about the work to be done and how I could have done better. I even had a nightmare about the defense last night after defending! A prof pointed this out to me tonight (and she really hasn't known me very long)- that I am not letting myself be happy about defending. Until she pointed this out I didn't realize what I was doing. Now, don't get me wrong- I've been to therapy and talked about this "constantly unsatisfied" part of myself a number of times. It doesn't come from my parents, it doesn't seem to come from anyone else either. It just seems to come from me. I used to argue with my therapist that it wasn't entirely bad to never be satisfied because then I just push myself to do more work. I still believe this. But, I also see that pausing to be happy with an acomplishment every once in a while is good. So, I'll try to do that.

posted by knit wit | 12/14/2004 11:33:00 PM

Monday, December 13, 2004
just letting you know

I passed my masters thesis defense today. It really was anti-climatic but I am happy to have it over with. So, I have a masters degree but I feel no different and have lots of work to do.

posted by knit wit | 12/13/2004 02:28:00 PM

Sunday, December 12, 2004
I have to post this

I just have to say I am so nervous about defending tomorrow that I think I might actually throw up. I have been reassured by countless people with different pieces of advice; my advisor wouldn't allow me to defend if I wasn't ready, I should be excited, its just a silly rite of passage, everyone passes through, I should have no problem talking for 10 minutes (it might be hard for me to only talk for 10 minutes), I do sound articulate when I speak, I know the most about my research (more than my advisor even), I've worked so hard on this for 2 years that it will pay off and be okay etc... So despite knowing all this I am paralyzed with nervousness. When I think about my committee sitting around this weekend reading my thesis I feel like I will be sick. All I seem to be capable of doing is drinking Tension Tamer tea, knitting, and watching Trading Spaces. I had a nightmare last night about defending. It was so terrible I am hoping it is a good omen- like in theatre where a terrible dress rehearsal means a great opening night. In my nightmare I was not prepared for the defense, I wandered away somehow from my defense, I tried to print a copy of my thesis and all the files and back up files had vanished, I tried to thank my advisor for her help and she slowly closed her door in my face. I have to formulate my 10 minute talk. I have thought considerably about it, but when I sit down to write it, I get freaked out. I am going to try to get over that right now. Maybe listening to some Dar Williams will help.

posted by knit wit | 12/12/2004 01:06:00 PM

Friday, December 10, 2004
knitting & the big screen

Well maybe not so big in our living room, but anyway... We watched

Big Fish

tonight. I really didn't expect to like it- I wrote it off as one of those

Forrest Gump

-type movies (you know the ones where a guy grows up, does great things, goes out in the world, does more great things etc...). But I really enjoyed it- had some nice moments and it made me cry at the end. I love Tim Burton as a director. Especially

Mars Attacks

and

Edward Scissorhands

(I wasn't a big fan of

Sleepy Hallow

and why he re-did

Planet of the Apes

I will never understand). I love his attention to the style of the background of his movies- the style and color of the clothes people wear, the colors and styles of the houses and buildings. I think that is just brilliant about his movies- kind of makes me miss theatre design just a little bit. Last weekend we also watched a few movies. Some successful, some not so. We tried to watch

Lost in Translation

and almost died of complete boredom. Its not that we usually dislike artsy, non-action movies, but seriously we had to shut this one off because nothing was happening and the movie was becoming torture to watch. We also watched

21 Grams

- much better than

Lost in Translation

(but that wouldn't take much) but too irritating in its jumping around time periods. I think

Momento

made that too trendy.

Love, Actually

was a totally wonderful movie- that again, I was surprised I liked. I am usually not into romantic comedies at all. Over Thanksgiving weekend (I meant to blog about this a while ago) we watched, as we do every year,

A Christmas Story

. I've seen it probably 500 times and I love it more each time. It is perhaps a perfect movie- every detail, every moment and character. I could never grow tired of it. I also went out and bought

yarn

today for holiday presents. I went to Michaels- being that I am on a budget and also wanted some more washable, acrylically yarn. They've expanded their yarn selection quite a bit and I was impressed with some of it. I will

never

touch Lions Brand Homespun or their Chenille (eieeww), but I did pick up some great Patons yarn. Actually, I was kind of irritated that they had so much yarn, but I tried not to be. It irritates me when things that I do become trendy. I started knitting about 5 years ago and people used to watch me knit on the subway in nyc like I was some kind of freak. Now, everyone on the bus is knitting chunky-fun-fur scarves. So, just as I was sighing at the large selection of strange, muppet yarns, someone asked me for help. A woman and her child didn't know which yarn and needles to pick out for a scarf. I helped them out and showed them some easy to knit with chunky, multicolored yarn and they got so excited. They thanked me and told me they were going to spend the weekend in front of their fireplace knitting- which I think is so wonderful. If I had a fireplace, I would be doing the same thing! While it I know, I know it is coming down to the wire, but I am excited about getting a bunch of knitting done. I got some great yarn, and started knitting tonight. I would love to take photos of the yarn to post, and describe what I am knitting, but that would spoil some holiday surprises for some of my blog readers out there.

posted by knit wit | 12/10/2004 10:48:00 PM

Thursday, December 09, 2004
way to rain on my parade



so, being all excited about my masters thesis defense, I forwarded the announcement (with the abstract) to some people from NY and from home. you know, people that always ask me how things are going... so here's a response I got back from someone...
"I'm also struck by how the complex language of academics actually masks the power of your research for those who aren't in the field. It strikes me as ironic that such convuluted jargon must be used to "impress." I know it to be so and am pleased you know how to do it, but you have to admit it's interesting that to be simple is considered less than "smart." That is, how would you speak to some of the old timers in [hometown] about what it is you have researched? And why is it different? Is that also culturally biased?"
Okay. So just as I am starting to feeling good about this little rite of passage in the world of academia someone has to slam some Ivory Tower shit at me. I don't even know how to respond so I'll just rant on my blog instead. Its not like I don't already feel like a fish out of water in grad school- I'm from a working class family (my dad grew up on a potato farm for crying out loud) and I have always been drawn to grassroots protests, education and activism. I mean, clearly this person has an issue with academia and what bothers me is that it is this stuff I struggle with a lot. By becoming an academic am I using "convuluted jargon" because I have to- if I didn't I wouldn't get anywhere (even though my advisor keeps telling me to simplify). But, does that mean I think simple language is not smart? Does it mean that I wouldn't also value talking to "old timers" back at home about my research? I don't think so- I always love being able to explain my research to anyone inside/outside of academia. I think it would be more interesting than hearing about some cell-level research in chemistry. Maybe not. And I guess this also goes to the whole issue of "public sociology" and whether or not academics contribute anything to society. I'd like to think I could maybe someday- write op eds or something. I'd like to think I wasn't just trying to "impress" anyone anyway. I have to stop ranting now because it is late and I am very tired. I feel kind of sad now and I don't know why exactly.



posted by knit wit | 12/09/2004 01:25:00 AM

Monday, December 06, 2004
letting it go

I didn't blog this weekend because I was frantically trying to finish that *last* draft of my masters thesis. It was painful- difficult and right up until early this morning I wasn't sure if I was going to make it. I don't know about the end, I don't know about the changes I made, I don't know whether or not the lit review is critical enough... blah blah blah... Anyway, I printed it out this morning and gave it to my committee. It was hard to let go of it- but if does feel damn good. Now I just have to worry and loose sleep over the defense. I know, I know, I know I probably wouldn't have come this far only to find out I won't pass or that they don't want me going on to a PhD, but it is still a nerve-wracking rite of passage. So, my spirits are slightly dampened by all the work I know have to do on other things (my job, stats exam, seminar paper etc...) and my spirits are dampened from a conversation with some fellow female grad students about how

some

male grad students can do anything ("here's some crap on a piece of paper...") and praise, funding, awards etc... just stick right to them like fly paper. And then said males play the game for everything it is worth. This gendered aspect of grad school is always there, but sometimes I am confronted with it and it sickens me. I wonder why I don't play the game and then realize, I can't. This reminds of a wonderful poem I read on another blog:

"Theorize power

Mark! Weber! Talcott! Parsons!

Still all dead white guys."



posted by knit wit | 12/06/2004 02:50:00 PM

Saturday, December 04, 2004
grad school low point(s)

Others in my blogosphere have written about their grad student low points (see: here and here). So, I wonder what low points I have had so far in grad school. Despite various low points, I kind of think I haven't had major ones yet as I am a couple years behind of some of my other blogging friends. Hopefully I can make it through the rest of this semester (defending) without adding any other low points... * ASA in Atlanta my first year would have to be a low point (while thanks to SWS there were also some incredible high points but not until the very last day after spending 3 days wallowing in misery). Wandering around from boring session to boring session completely by myself was terrible. I would see people I kind of knew from UW who would ignore me or would just not be very friendly. No one invited me out to eat with them despite being there while folks made plans in front of me. So, I was pretty miserable until the SWS banquet. * A specific potluck at my advisor's house. I knew no one there- mostly profs from other departments I think. I don't know what made me go in the first place. I spent most of the night standing up against my advisor's microwave in the kitchen trying to disappear but just getting in her way a lot. Then, I tried to make conversion with said advisor and some other people and the conversations ended up just being stilted and awkward. Soon after that terrible potluck I learned to expect nothing more from them and they haven't been so bad since. Ahhhh- the lowering of expectations... * Begging for TA positions and funding were also some serious low points. There are long stories about that I just can't even get into right now. * Begging for an incomplete in stats would also be a low point- trying to explain how I understand material in class but don't test well blah blah blah. Getting the *lowest* grade on a stats test in the whole class and being reminded of that by the prof while trying to beg for that generous incomplete. Oh- there have been many stats lows. Wow.

Begging

seems to be a major component of grad school.

Okay I am switching gears and colors for a moment. Someone I know pretty well is actually on that ridiculous reality TV show Gilligan's Island. I hate reality TV and I also hate Gilligan's island, but one night I left the TV on after watching something and this show came on. "Professor Eric" is a guy I know from the sociology world- we almost roomed together at ASA (the sucky one above) and he helped me decide on and apply to grad school. So, what the hell is he doing on Gilligan's Island? And the frightening thing is that I always thought all those reality TV show characters were made up but from watching a couple episodes I see Eric seems to just be himself. Its funny that there is a millionaire's wife who absolutely hates Eric flaunting his gay-ness. She actually tried to make the argument that if 2 men get married that then someone will want to marry a snake or a dog or some other animal. Anyway, I've watched a couple episodes out of curiosity but it really is a dull and dumb show. My big question is (and I would love to email Eric this)- what does being on such a show do for you chances on the job market?



posted by knit wit | 12/04/2004 08:14:00 AM

Friday, December 03, 2004
wonky sociology

Every once in a while I get stuck on a word that I try to use a lot. My word for the month is wonky. Try to throw it in to a conversation for fun. Anyway, a bunch of us in sociology started a kind of public sociology blog so check it out. p.s. I have 4 gmail invites left. Let me know if you want one.

posted by knit wit | 12/03/2004 04:49:00 PM

Thursday, December 02, 2004
random things

I worked for 4 hours at Borders last night. They've been bugging me about doing some holiday hours and since I hadn't worked since August I decided a few hours wouldn't kill me. It was actually very relaxing. I wasn't near any work I needed to do for school and I got to browse the new books and chat with some employees I haven't seen in a long time. * I looked up a book for a customer and found it for him (a pretty usual occurrence). When I found it he was so thrilled he asked me if I had a degree in library sciences to be able to do this. Now, I've worked in bookstores since high school and I have heard a lot of strange questions- but nothing like that. I laughed and told him no and he acted really surprised "well you're very good at what you do- I am glad

you

were here tonight to help me find this". I did nothing extra-ordinary for him so I just say "um, thanks and you're welcome". His next question was another first "do you sell beer here because I've had a bad day and I could sure use one". I answered "um- no. I wish we did, but no". He thanked me again for being there to help him and left. * I had a woman ask me for Barak Obama's book. I honestly had forgotten he had written one, so I chatted a little with the woman about it while I walked her to the section. I said something like "oh I didn't realize he had written a book, I should read it". She said "well I am a staunch republican but I love Barak". I think I might have flinched noticeably. I haven't interacted (to my knowledge) with a Bush supported in I don't know how long (the last time I worked at Borders, probably). I said how much I liked him too and she went and bought the book. How very odd. * (unrelated to Borders) I couldn't sleep again last night. It wasn't even that my cat woke me up- I woke up on my own in a cold sweat about how much my literature review sucks. I couldn't get back to sleep so I took 2 Tylenol PM. It was like someone hit me with a ton of bricks, I was out so fast. I slept through 2 alarms and Jo couldn't even wake me up so she let me sleep in.

Ugh

. I have to go to work.

posted by knit wit | 12/02/2004 09:13:00 AM