grad school, politics, knitting and other meanderings. And not enough time for any of it.
: : email knit wit : : knitmemoretime@gmail.com
---
Tuesday, December 28, 2004
last dispatch from Maine

After 9 days, I am heading back to Madison tomorrow morning. To make it to the airport in NH, we are leaving at 5am. Today we went to LLBean to exchange a couple things and to eat at our favorite restaurant in Freeport. This evening will be an early one- a last piece of the mince meat pie and trying to pack everything. Cross your fingers that my luggage arrives with me- there are too many goodies (new yarn, hand knit sweaters, new clothes and old pictures) coming home with me. So here is a picture of the old bridge and the new bridge over the Kennebec river here in Bath. The new bridge was built after I graduated from high school and I am not a big fan of it. It looks like a highway overpass. The old bridge is the green one and is no longer in use (there isn't even a way to get on it). But it is my favorite bridge and I don't think they should take it down. I have fond memories of watching fireworks from the bridge, feeling old enough to walk over it by myself, waiting on it for the draw bridge to go up and for ships to go underneat etc...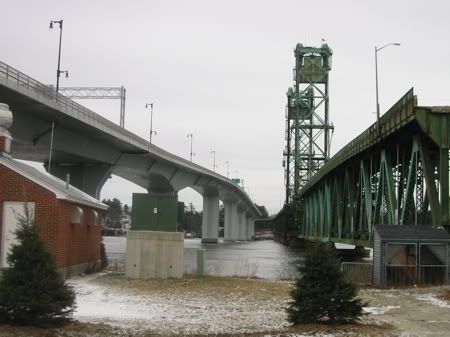 Here is my grandmother when she was in high school standing on the bridge when the highway (route 1) leading up to it was first built (I guess it was just a road leading up to it before). This is probably the 1920s.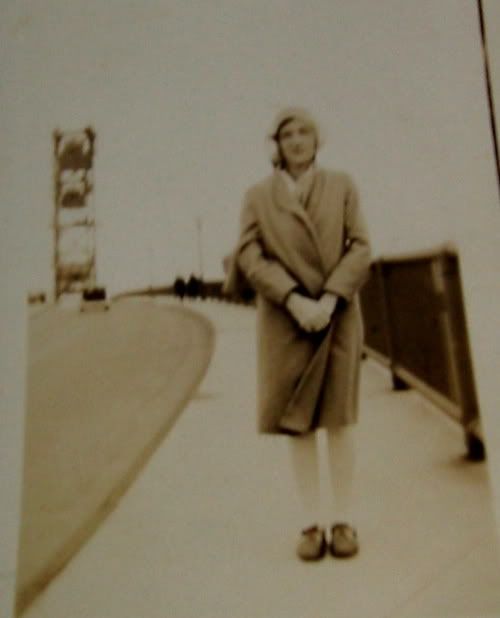 And here is an old family picture (1860s) of an unknown place where family on my mother's side lived. We think it is Smithfield, but it could also be Skowhegan. I think this summer we will take a drive and try to find the location. This picture started our whole search online for long lost family history. Through email, I met a distant relative in Ohio and filled her in on pieces of family history she was never able to learn.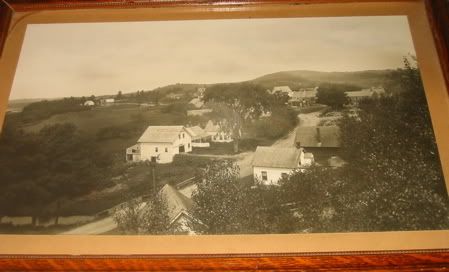 And as promised, the giant moose made out of car mufflers. It also lights up at night. It doesn't look like mufflers anymore, they have covered it with metal and painted it. It also doesn't look like a moose, but the old man at the car shop next door calls it a moose (and we think he made it). For those of you driving up the Maine coast, it is on Route 1 on the right just as you enter the town of Bath.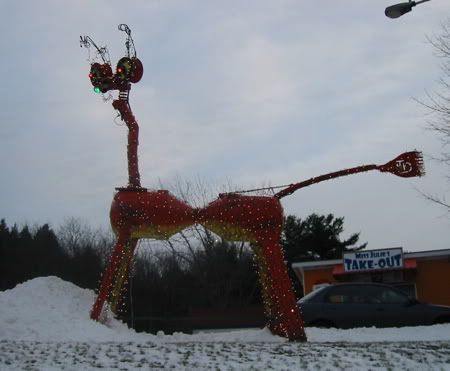 posted by knit wit | 12/28/2004 07:51:00 PM