grad school, politics, knitting and other meanderings. And not enough time for any of it.
: : email knit wit : : knitmemoretime@gmail.com
---
Thursday, April 28, 2005
nothing better to post

how is that for the title of a post? I've been too busy to blog, and even though I have all these ideas all the time about things to blog, I haven't had a chance for a full posting in a couple days. So, this will have to suffice, okay? A couple of weeks ago we had a wonderful potluck of international foods. Well, a woman I worked for felt badly about missing the potluck, so the next day she brought in her own international food from Thailand. To be more exact, she brought in canned crickets from Thailand. She is an entomologist and she has traveled a lot (and she has a wonderfully sick sense of humor) so this he food contribution made a lot of sense. She brought the can into my office and I (also having a kind of sick sense of humor) encouaged her to put them out on a plate in the breakroom. She did, and added some chives as a garnish. This grossed so many people out during the course of the day that someone put a towel over the bugs before they heated up their lunch. Chris and I thought it was just so funny. At one point I made it look like one of the crickets was trying to escape from the bowl, but I don't have a picture of that. Chris was the only one who ate one I think. Anyway, here's some international food for you. Organic and very high in protein!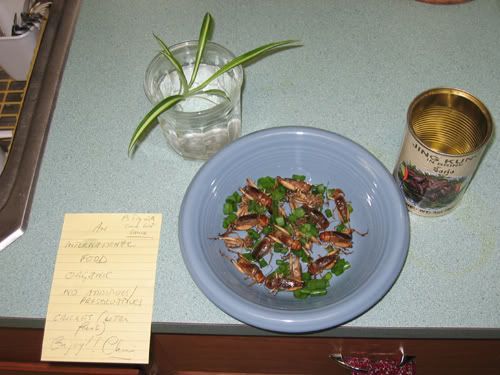 posted by knit wit | 4/28/2005 01:27:00 PM