grad school, politics, knitting and other meanderings. And not enough time for any of it.
: : email knit wit : : knitmemoretime@gmail.com
---
Monday, May 30, 2005
do the thing you think you cannot do

this is my personal mantra. I have it tacked right above my computer.

"Do the thing you think you cannot do." (Eleanor Roosevelt)

So much of grad school (and life, I suppose, as well) can be chalked up to

courage

and

confidence

. For some courage and confidence

seem

to come so easily- but I suspect everyone must struggle with this to some degree. For me, it is more of a struggle than someone might think. It's an every-day conversation with myself, like the train in "The Little Engine that Could," I try to keep telling myself "

I think I can, I think I can...

" And then I just wind up giving myself permission to "fake it" (the song "Fakin' It" by Simon & Garfunkel always comes to mind) and to just try to write an article like I am some kind of old pro at it. This seems to work sometimes- forcing me to forget about myself, cut through the struggle and just do it already. But, the prelim is another kind of beast entirely. It's not like a research project or a paper where you have a direction and focus to pull sources together, and to guide your reading and learning.

It is just this huge frightening nebulous thing

. People

tell

you you'll do okay- but you can't even wrap your brain about where to begin with it. Which prior question do I start to build an answer to? What do I start reading first with a list of hundreds of books and articles in front of me? What section of questions do I even begin with? Theory because I like it? Or micro-soc because I know the least about it? And furthermore, I know what I am like when I am writing. I know how to talk myself into doing things. With this I have no freaking clue how to talk myself through it. It will be a learning process for sure, but it can't be much of a learning process because I don't want to take it twice. I don't even know what I'll be like the month before, or (good god) the week before. Should Jo go to NY and stay as far away from me as possible? Or will I want her around and freak out if she isn't?

Well, I know it won't help to blog myself into a tizzy about it.

I'll have to just start someplace. And I'll have to really be

actively reflexive

and flexible about how I am studying- what is working and what isn't and keep the notes I have from my meeting with some of the committee in mind. Most importantly, I need to just keep myself on some high of pseudo-confidence. If I doubt whatever process that is ahead of me even for a second, I'll sink. We're talking some

serious

positive thinking, even for me. [at least writing all that about the prelim just now made my article draft seem less daunting. it is all relevent after all...]

posted by knit wit | 5/30/2005 10:41:00 AM

Saturday, May 28, 2005
bravery

I am about to email my advisor a

promise

that I will send an article draft to her this Tuesday. But, I don't feel very brave today, so I call Jo (who is catsitting across town this morning) for a much needed mini pep talk.

Me: I am about to send this email. Should I send it? Am I nuts?

Jo: Well, can you get it done by Tuesday? Why Tuesday?

Me: Tuesday because if I don't get it done I will

never

be able to really let prelim studying take over my life... and I

think

I can get it done. I mean, I

do

get a lot of the hard writing work done if I sit done for a couple days and just do it? Right?

Jo: Yes, you always do get a lot done in 2 days when you sit down and do it. We only have to pick up our vegetables later and then you have the rest of the weekend to work.

Be brave

. Just send her the email.

Okay, okay. I just sent it. I am going to take a shower, eat something, and then plunge into the abyss of working on my own writing...



posted by knit wit | 5/28/2005 09:57:00 AM

Friday, May 27, 2005
wanted:



Wanted:

A best friend (a.k.a. a kindred spirit, a partner in crime, a Rhoda to my Mary etc...)

Preface:

Let me preface by making it known that I am in

no way shape or form

desperate for friends. I have

so many

amazing people in my life- I am lucky to have Jo, my family, Jony, my super-supportive friends back in NY, and wonderful academic mentors (both at UW and not). That said, I am lacking a

best

friend

here in Wisconsin. Yeah, I've met great people, but I want someone I

really

click with- someone who just really gets me. Sure, I keep myself happily busy here- working, working, hanging out with Jo and such, but sometimes I'd like someone to call and say hi to- to talk about life with. Someone to have a beer with at Mickey's. I just worry that it is becoming more difficult to make friends since I am approaching 30 and I am in the isolating field of academia. I am honing in on what I want from a good friend and thus I am becoming increasingly picky. I also don't have time or energy to go out and actively meet new people. All of this just really doesn't bode well for making a new friend.

So, while I am being picky- here is the kind of friend I would love to have:

- All the usual stuff applies- funny, smart, respect for all people, kind etc...

exceedingly

kind, actually. - Someone who is stable. Not moody at all. - Issues are okay- but

not

a whole lifetime subscription. Everyone has shit, but I would love to find someone with an

awareness

of their shit. And an ability to talk about themselves, reflect on themsleves, and their lives and laugh about it. - Someone who calls and says hi. Just to check in and tell me stories about their day. - Someone who will understand if I want to spend a weekend or evening at home, working or hanging out with Jo. Someone who will not only understand this, but will still call me up in a few days and invite me to hang out again. - Someone who is down to earth. Someone who is comfortable camping- who isn't picky about putting on make up or doing their hair. - Someone who doesn't freak about not having an umbrella in the rain. - Someone without an addiction to drama. - Someone who looks critically (and with humor) at the world around them- especially pop culture. - Someone who over-analyzes things at least as much as I do. - Someone who can remind me when I am over-analyzing things. - Someone who knows better than to ever take their shit out on other people. - Someone who can talk about politics for hours- actually listening, engaging, and not getting bent out of shape. - Someone who really values education and life-long learning, even at the expense of being a considered a geek or a brown-noser. Someone who really takes lessons and growth out of everything and everyone around them. - No mean-spiritedness. None. - Of course, liking beer, music, and being able to laugh for hours are all necessary as well. - Age, sexual orientation, gender etc... don't matter in the least. I

know

meeting someone like this is within the realm of possibility- I have clicked with such people recently (they just don't live anywhere near here) so I

know

potential friends are out there. This line from the Indigo Girls song that I have been listening to since leaving NY sums it all up pretty well: "hey kind friend help me forget where I've been- kind friend help me remember who I am..."

posted by knit wit | 5/27/2005 05:07:00 PM

Thursday, May 26, 2005
The Maryann Show

Announcing a new blog! Check out my sister's first blog "The Maryann Show" I must say I kind of helped her name it. We were thinking along the lines of the Mary Tyler Moore Show and the "girl you're going to make it on your own" part. I think it works perfectly for Maryann! She thinks her life isn't nearly as interesting as mine, so she doesn't think she has anything to blog about. I think her summer before her 3rd year in college, 19-year-old life

has

to be much more fascinating for a blog than my mostly hum-drum grad student life. She might be kind of slow in getting it going, but I am looking forward to reading it!

posted by knit wit | 5/26/2005 01:19:00 PM

Wednesday, May 25, 2005
I have no need for anger with intimate strangers*

I got an email today detailing some of my upcoming high school reunion. It was semi-long and even irritating in all the details. Something about how instead of the reunion lasting from 6-12 it was only going to be from 7-11 (I think 4 hours is plenty) and something else about a silent auction we are supposed to bring stuff for, in anticipation of paying for our next reunion. And something else about bringing pictures of our lives and families for some kind of video-collage. I guess I could bring pictures of Jo, our cats and our canoe. But, really, spare me all the little details and just hand me a beer or two as soon as I get there! Mostly I am just curious about the reunion. I have only kept in touch with 1 person from my class (Jony) and have badly kept not-so-in-touch with 1 other person (James). Despite small town gossip, I know very little about what everyone else is up to. I am also anticipating it to some degree because I am

so very different

now than I was in high school. I am pretty much the same person, but my trajectory has veered pretty radically from what anyone in high school might have imagined. Let's compare.

High School:

- I hung out with mostly all guys. My best friend (James) was a guy- people thought we were surely going to end up married as we were already attached at the hip. Jony and I were mostly best friends before and after high school, not so much during.

Now:

- I don't have many friends who are guys. This isn't on purpose, it just happened. James and I didn't end up getting married (clearly), much to his mother's dismay. We both came out. He lives in L.A. now with his boyfriend.

High School:

- My best friend (James) and I just listened to show tunes. I also listened to some Indigo Girls and Melissa Etheridge (hello. who needed to come out?) and with Jony I listened to all Pink Floyd, Cat Stevens and Simon and Garfunkel, but James in high school, it was all show tunes.

Now:

- Thankfully, I don't listen to show tunes anymore. After my brush with being a theatre major, I have a severe allergic reaction to some musicals. The musical I camped out in nyc to see in its first season (

Rent

) I don't think I could stomach now. I still love old musicals like the

Sound of Music

and

West Side Story

, and I have a soft spot for Sondheim, but I am mostly an Ani Difranco/Indigo Girls/PJ Harvey/Bjork (and still S&G and Cat Stevens) person now.

High School:

- I was not studious at all. I did well enough in school, but was never really super serious about studying. I always read a ton, and my reading level was always way too high for them to know what to do with me, but other than that school was just school.

Now:

- I am

still

a student by choice, and in terms of the "studious scale?" Well, the fact I look forward to spending an evening or weekend just writing and reading, should answer that question. How much it means to me must be pretty obvious from reading this blog, I imagine.

High School:

- I was a major band nerd. I played in the town's municipal band, went to orchestra camp, taught private flute lessons, sat first chair and played solos (such as the piccolo solo in the

Nutcracker

). I actually wanted to be a professional musician for a while.

Now:

- I don't play my flute anymore. It's been years. And I really do miss it. I especially miss playing Mozart in the orchestra and playing marches on the piccolo in the municipal band. Marches were always such fun. Maybe I'll pick it up again some day and join a half-serious municipal band.

High School:

- I was a serious, super theatre geek. I lived and breathed technical theatre. My tech buddies and I (Ben, Kirk and Casey) could be found during study halls and after school in the theatre tinkering with lights and stuff. We carried pocket knives and flashlights everywhere (yes, that was pre-Columbine). We wore black, or jeans and theatre t-shirts all the time. All I wanted to do was end up lighting a show on Broadway. Seriously.

Now:

- Theatre is also something I left far behind. I did go to school for lighting design. I did a bunch of plays, even did some off-off-Broadway work. But, mostly I learned how much I disliked doing it professionally. Maybe I'll do community theatre some day. There was something about it I loved, and still do, just not nearly enough to make it a career. I predict conversations at the reunion will be comprised of questions about what I am doing now, and why. And I'm sure there will also be remarks about my hair being short. I

always

had very, very long hair. I think perhaps that was all most of the people I graduated with ever knew about me- that I had long hair, that I played the flute and that I wanted to end up on Broadway. These people didn't know me. They weren't even ever very nice to me. Maybe Jony and I will need a beer before we even get to the reunion...

*from "Reunion" by the Indigo Girls on Swamp Ophelia.



posted by knit wit | 5/25/2005 04:32:00 PM

Monday, May 23, 2005
photo evidence

Evidence that Maine, specifically Portland, is a very cool place came to me from Islander today. She found this store in Portland, and it made her think of me and my blog. I know exactly where it is, so I'll have to check it out when I am in Maine this June. I love the sign with the yarn in the brain. A great Knit Wit image! Brilliant!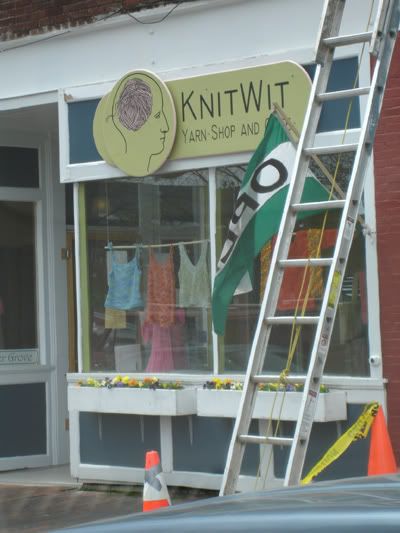 posted by knit wit | 5/23/2005 12:35:00 PM

Sunday, May 22, 2005
okay- we do love a couple things about Madison

We went out paddling this morning, fortunately before it became so windy as right now everything outside is just blowing around. It was a wonderful early morning canoe trip- only about an hour- just enough to make me feel that spending the rest of the day inside at my desk is justified by some fresh air and exercise. We also managed to get out before a lot of other paddlers did. We had the creek to ourselves, and on our way out to Lake Monona we saw tons of turtles, ducks, baby ducks, and both the green heron and the blue heron. We can never seem to get a picture of the turtles. They move into the water too fast. There is one turtle large enough to be considered the creek's monster- I saw his head poke out of the water last time we went out and it was so large it scared the crap out of me. This time I saw him on the edge of the water, and at first I thought he was a rock and a thick branch, then he moved into the water and swam away. Someday we'll try to paddle even more silently through that part of the creek so we can sneak up on him and snap a picture. Here is the blue heron. We've seen him outside our place before too. He is an impressive bird- graceful and beautiful. You can tell from this shot how close he let us get.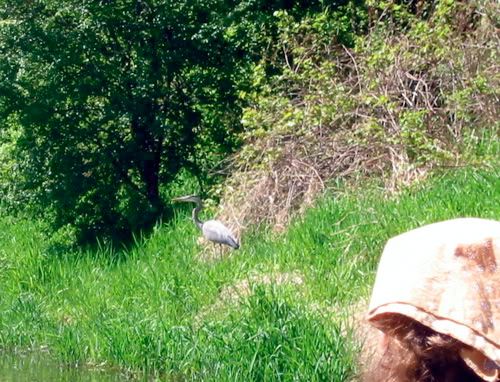 And eventually he flew away, but I got this shot of his huge wingspan.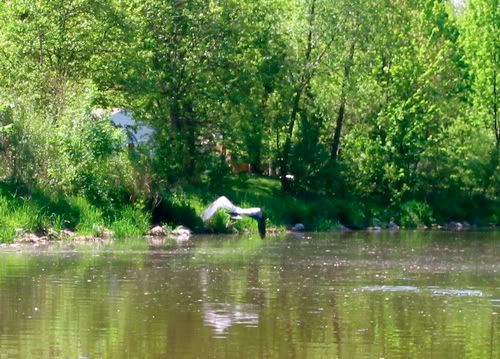 We also saw quite a bit of the green heron. I think there may be 2 as one looked larger than the other. Both of the following shots are of the smaller one. He was very hard to get a clear picture of as he kept flying away!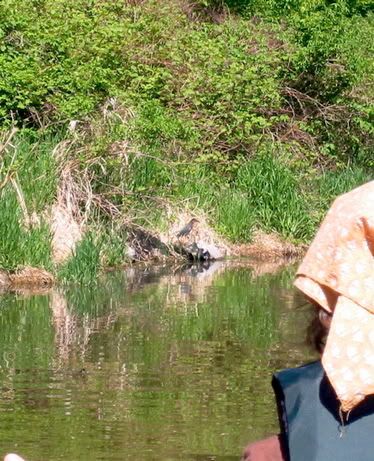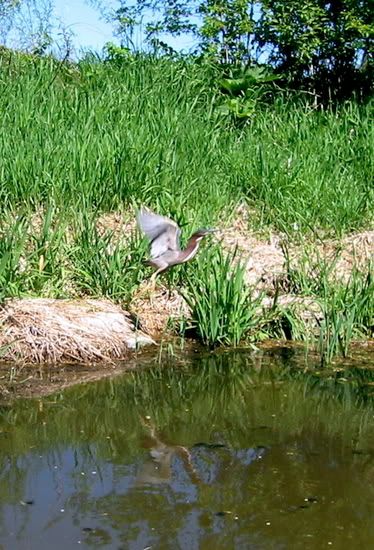 Jo and I just

love

paddling. We meet great people too. Today we met a couple who puts in up at the Yahara River and then joke about paddling to Thailand in 40 minutes (they mean to the Thai Pavilion on the creek, of course). Paddling right inside the city limits and putting the canoe in right outside our door is something we love about Madison. There are at least a couple other things we love about Madison (well I guess going to the co-op and picking up our vegetables). Anyway, I am actually writing now. I'm not even working on a paper due at the last possible minute. I am actually working on my article. I know,

holy crap

. I don't know where the motivation is coming from but I am running with it.

posted by knit wit | 5/22/2005 01:15:00 PM

Thursday, May 19, 2005
happy birthday to my little blog



Yes, folks, knit me more time is a year old today!

A year ago I trepidatiously started a blog. Reflecting back on those early entries now, I can see how much and how little has changed, both in my life and in my blogging style. In terms of my blogging style, I am more "public" than I ever imagined. Although this has been wonderful and I have made some great new blogger friends (in person and through blogs) I am sometimes more careful about what I post now than I was in the beginning when I used to post more recklessly. That's not to say my blog isn't raw and personal- sometimes I post things and read it later and can't even believe I said all that. But, that's what blogging is all about and I kind of like it. In terms of my life, well, I kind of laughed just now when I read some of my beginning posts from this time last year. That was the time of the brilliant study-for-prelim-and-write-masters plan. I remember distinctly last summer at this time

totally loosing it

because I had the prelim, the masters, and hourly work on a project to do. Let me tell you that

now

I see I didn't have it so bad, and that in the past year I have gained more mastery of doing tons of things at once (yay!). Going into this summer, I have a 20 hour a week job, hourly work on

three

projects, a

prelim

to study for

and

an article to finish. And I'm

not

panicking. I know with some insane calmness that it will all get done. Sooner or later, things will get done. And this summer we have a canoe. And new found friends in the women who live across the street. So despite the how packed this summer is with work, I will sneak in hours of paddling and BBQing that will be wonderful. so happy birthday blog. let's see if this lasts another year...

posted by knit wit | 5/19/2005 10:11:00 PM

Wednesday, May 18, 2005
shine on you crazy diamond part ix

Happiness is re-reading an assignment to find out the paper due tomorrow that you

thought

had to be

at least

6

single-spaced pages has to

actually

be

no more than

6

and no

less than

3

single-spaced pages. So at 11pm, 13 hours before this paper is due, I get to go to bed and finish it up in the morning instead of sitting here late into the night writing frantically. Because now I have more than I actually need! Perhaps my occasional flakiness helps me out a little bit...

posted by knit wit | 5/18/2005 10:38:00 PM


and I'll climb the hill in my own way...*



I am finishing a paper tonight. At the last minute.

Of course, why on earth would I complete anything ahead of time?

I am on overdrive for the next couple weeks, finishing up some much-needed-to-be-finished stuff before really throwing myself head first into prelim stuff.

Capitalizing on this overdrive is key. I feel good about getting things done, so just don't even try to distract me (who am I kidding? Nothing ever tries to distract me but Jo and the canoe).

I

think

I will panic every time I

think

about the prelim. And all the other "projects" I have taken on... But, I have all the prelim stuff ready, and I have read some already. And I need to not freakin'

think

about things so much and just do them. I burned the top of my mouth

very badly

on pizza tonight. Having a blister up there is just truly creepy.

Sorry, you probably didn't want to know but the good news is I am off the damned antibiotic and bought some wonderful New Glaurus Native beer tonight. Yum.

But, I have a new tiny laptop bag, a brand new gig of ram in my imac's hard drive and Jo is making coffee!!

This

is

all very exciting news. I have never seen a faster computer in my life, my new

orange

laptop bag just makes me very happy and

coffee

is good for my soul. It's the small things that are truly important.

I go to Maine soon to see Jony and family (and for that pesky reunion).

I just have to lug prelim material with me when I go, and be really vigilant about studying in the Patten Free Library (where I used to work and will probably irritatingly run into tons of people I know) for a few hours every day. No lazy Maine time for me.

I am listening to Pink Floyd while I write. It is just perfect writing music.

*Thus the title of this post, from Meddles' Fearless, one of my all-time favorite songs.

posted by knit wit | 5/18/2005 07:31:00 PM

Monday, May 16, 2005
back to the Monday morning rant

Why does last night's episode of Desperate Housewives make the morning news as if the made-up (and it seems to also be badly acted) TV show is really real

news

happening? Every single Monday morning on the news they talk about this show. What about other real news going on the world? Or would that just be too upsetting for our cushie American-wanna-be-desperate-housewives lives? It also slowly kills me that shows like this are so popular. I mean, that's fine, if people love watching them then so be it- just don't make it a part of my morning news. And what about

amazing

,

brilliant

, and

thoughtful

shows like

Dead Like Me

, that get canceled after

only

two seasons? I will have to buy that show on DVD, but the fact it won't be on again just

breaks my heart

. And we are also coming up on the last season of

Six Feet Under

. Jo and I have been religiously hooked on this show since the 1st season. I can understand not wanting a show to go on too long- ending sooner rather than later is always wise. It will just be very sad to see that incredible show end. Don't get me wrong. I love "escape TV" as much as anyone. I have some shows that if I sit down and turn on the tube and they're on, I will watch. They make me feel a little better if I am stressed out. Actually, I'll just confess to thoroughly enjoying them. They are all reruns.

Six Feet Under

was really the first show I became addicted to that wasn't being rerun already.

Leave it to Beaver

Little House on the Prairie

[I've watched this since I was little. I still do even though I've seen them all and the high Michael Landon drama is sometimes too much to handle]

The Golden Girls

South Park

[nothing else cracks me up like this show]

All in the Family Columbo

[just good, intelligent mysteries]

Everybody Loves Raymond

[we started watching this after moving here from LI. This show is so LI it is just very endearing and funny.]

posted by knit wit | 5/16/2005 07:44:00 AM

Saturday, May 14, 2005
homemade sushi

Again, I haven't blogged much lately. This time mostly because I have been feeling pretty

blue

. Our cat, Angie, died very suddenly of a heart attack a couple nights ago. She was our

secret favorite

- an abyssinian with a lot of personality. She is just greatly missed around here. And now we are six... Today Jo and I spent working on her new website. Something that helped us keep our minds off of feeling

blue

. I was craving sushi before (it is kind of comfort food for me- right up there with Annie's Shells and Cheese) but there is no where good enough here that delivers to make it worth the effort. Well, later on our neighbor showed up out of the

blue

at our door with homemade sushi. Her parents are visiting from Japan. The sushi is seriously amazing- the best I have had since I was in Japan in 9th grade- just the smell of it when I unwrapped the little package made me feel good.

posted by knit wit | 5/14/2005 10:39:00 PM

Thursday, May 12, 2005
and what's wrong with the people of Maine?

Are the people of Maine

expendable

? Are they

less important

somehow than people in and around Boston? For the

second time in the past year

, a plane with someone on that "no-fly" list has been diverted to

Bangor, Maine

today, instead of landing in Boston. You can read about it here. The first time this happened was with Cat Stevens- here is the Common Dreams article on how he wasn't allowed into the country that also descibes how his plane was diverted to Bangor, Maine as soon as they figured out someone on the "no-fly" list was on it. If this is some kind of anti-terrorism plan, or threat-response plan, then the people of Maine need to be

pissed off

. Land the plane somewhere where there are no towns- farmland with long, flat roads would be good for this. There are

a lot

of people in the Bangor area. In terms of Northern Maine standards, it is

not

the middle of no where. And

perhaps

people on a flight should be compared to a "no-fly" list (whatever crap that "no-fly" list may or may not be)

before

they get on the plane. That might be something one could do quickly with a computer for a plane takes off for the U.S.

posted by knit wit | 5/12/2005 06:04:00 PM


small things

Sometimes its just the small things in life... Like when you email your final conference paper to the organizer, and then she emails everyone on the panel all the papers, and you realize yours is the only paper that doesn't have a cover sheet. Not only does it not have a cover sheet, it is lacking any further information than my name and the title- it just looked like a draft I would have sent to my advisor. The other 4 papers had title sheets, with their names, their positions (all professors of some sort), their institutions and stuff like "do not quote without the author's permission." Did I know to do this? No clue. There ought to be some kind of freakin' handbook of this stuff. Now I know. But this small trivial detail still makes me feel kind of, well, small and trivial. And then there is the dream I had last night about going to my high school reunion with horrible hair. It was just terrible- I kept trying to fix it knowing that all those old people from high school would think I was some kind of looser. My reunion is a month from yesterday, and I

was

feeling okay about seeing a bunch of people who were never very nice to me anyway. I guess old hang ups die hard.

posted by knit wit | 5/12/2005 05:36:00 PM

Tuesday, May 10, 2005
the light at the end of the tunnel?

I don't want blog much when I am especially stressed out. I just don't think it is very interesting stuff to read about. Instead I just try to survive and take care of myself in all the ways I am learning how. I actually really feel like I have stuff piled on me and that the pile just keeps getting taller and today I can't see over the top. In the pile are articles to be read, a paper to finish today, another paper coming up, an article I would really like to see sent out to a journal soon, a book to help my advisor edit, a website to finish... and

then

there is the prelim to study for, the prelim handbook printed and needing to go into a binder or something, and a prelim reading list I should organize. And then probably towards the bottom of the pile, in danger or being forgotten because they are not visible, are the lease renewal I ought to look at, and a tax form I need to refile. And something else?? I guess I'll have to dig around to make sure I'm not missing something crucial. I am reminded of the lyrics to one of my favorite songs, Ani Difranco's

Wish I May

:

"I wonder what happens if I get to the end of this tunnel and there isn't a light..."

So I must remind myself of the little glimmers of

light

at the end of the tunnel. In a month I'll be on the road somewhere between New Jersey and Maine with Jony and we'll laugh a lot and listen to music (most likely a lot of Ani). But that trip to Maine will just be a little taste of light. I really won't crash until August 2nd (the day after the prelim). Presuming

that

marks the light at the end of

at least one

major tunnel. But today my wrist really hurts (carpel tunnel problems that flair with too much computer work) and I just have a paper to finish. When can I

not

be a student who has to write final papers?? I know in a semester this crap will be over- not soon enough, though. At least I have a new computer to work on- a new computer with such a huge screen that I can have 2 documents open at once- this is truly a pleasure! I think I'll make a mix of survival music later. I'll post the list of songs here. And maybe I'll call Jony to laugh for a little while. And I don't think it is going to rain today- so maybe another short canoe trip in the early evening might be nice...

posted by knit wit | 5/10/2005 09:02:00 AM

Sunday, May 08, 2005
yeah, yeah...

Why haven't I posted in a few days? I've been busy being a total computer geek, that's why. My new imac arrived early Saturday morning! Here is the unpacked box in the living room with Tiger ready to be installed. The Bean, our cat, is pretty curious about the imac. Well, actually cats are generally interested in any box or paper bag.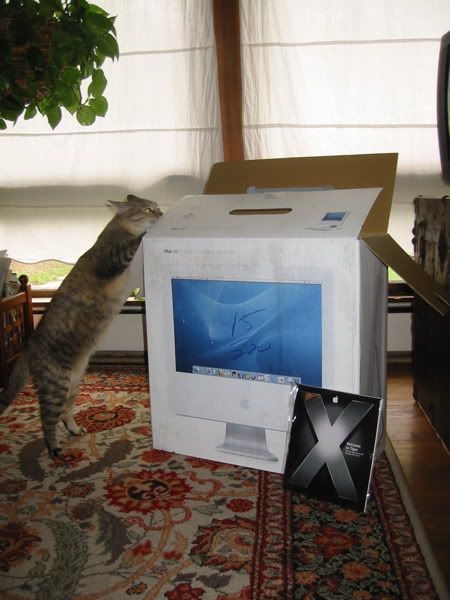 Just moments later, here is my imac (did I mentioned she is named "Minerva"?) booting up for the first time on my desk! Although I did clean off my desk that morning, the imac actually nicely hides some of the clutter. Note that the mouse is not the one that came with the computer, it's just an extra mouse I had. I love apple but I hate the mice. The terrible thing is sitting in my drawer lacking a 2nd mouse button and a scroll wheel. Anyone want it? I need to order a better one...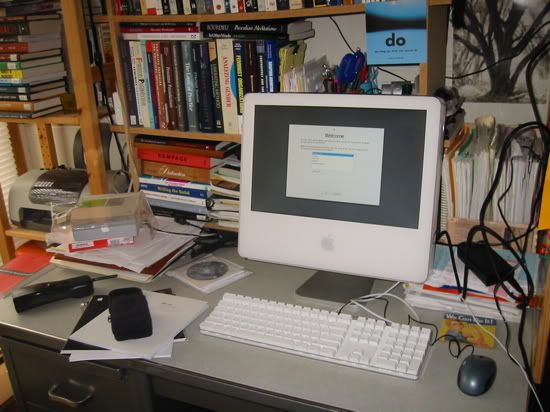 Needless to say I spent most of the weekend fooling around with the new computer. This is a seriously nice computer. I am not usually impressed by the "insides" of computers, but when I opened up the back to install the airport card I was impressed. The computer is super fast even though I have every application open that one could imagine right now. I had to install Tiger, play around with the new features and then I had to install various apps and transfer stuff from my ibook. Now Minerva is really up and running (and I am getting some work done, well, not this second). I didn't spend all weekend sitting at my desk (just most of it). We went out canoeing today for nearly 2 hours. There is something deceitful about canoeing. When we are paddling around, and I don't feel any kind of fatique. Actually, I don't even feel like I am working out although I am. Instead, the full impact of canoeing hits my body after we get out of the water. Today it was my legs. Legs? I was paddling, not running. My arms and shoulders are feeling it a little more now. And the sun was pretty strong. I almost passed out in Woodman's afterward. We went right after canoeing and I felt so much like I did that time when I was 15 and spent a day at the beach without eating or drinking much (I passed out), that I grabbed a bottle of Gateraid off the shelf and drank it. I need to remember 2 things about canoeing: (1) drink plenty of water during and (2) eat lunch first. My mistake, I think was going out having only eaten 2 pieces of toast.

posted by knit wit | 5/08/2005 09:05:00 PM

Thursday, May 05, 2005
ixnay on the eerbay

The good and the bad of this weekend:

The Good:

1. Our Harmony Valley Farm share starts this Saturday! Among the list of what we are getting are parsnips (one of my

favorite

foods), sun chokes, and arugula salad. Yum! 2. Minerva, my new imac is being delivered on Saturday!

The Bad:

1. I have 2 papers to write. I've thought a lot about them and that counts, okay? 2. I am on an antibiotic (yuck) that came with a stern and serious warning from the pharmacist. No alcohol for the next 10 days. Even the slightest amount will make me violently ill.

What?

No beer? Come on, it's the beginning of summer and I just need a beer every once in a while to get through these papers not to mention ease me into prelim studying. Maybe ice cream will suffice?

posted by knit wit | 5/05/2005 08:03:00 PM

Wednesday, May 04, 2005
hometown disgust

Well, I see now that I was not alone in my disgust at the over-the-top-dramatic article my hometown newspaper, the Times Record, published on the arrest of a teacher at more former high school (read about it here). So many others in the community were upset about this article as well as the alleged incident itself. For the past couple days letters have been pouring into the editor about the unnecessarily dramatic article and in support of the teacher involved. The printed mine today. You can read them here (just scroll down to the "letters to the editor" part).

posted by knit wit | 5/04/2005 07:06:00 PM


Minerva

The new G5 imacs came out yesterday, so I took advantage of an amazing deal and ordered one of the original models!! I used apple financing, and with extra money I am making this summer I will be able to pay it off by August. It is about time Jo and I moved up in the computing world. Sure, my ibook, Agatha, is great for me to do general work on, but it is really not suitable for more processor-intensive webdesign, photoshop stuff and for music stuff. My ibook's hard drive space is also pretty much maxed. The new imac will not only make webdesign much faster for me, but Jo can start mixing, producing, and mastering her own music, instead of relying on others to do this.

And

we'll have a dvd burner- oh the joy! I also haven't had a desktop computer since my performa that I got before I went to college, 10 years ago. So, having a desktop again will be very exciting! Did I mention it ships with Tiger? My sister understands how amazing this purchase is- she said she almost wanted to cry tears of joy when I told her about my purchase yesterday. The new imac's name is Minerva and she arrives Friday or Saturday.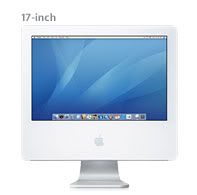 posted by knit wit | 5/04/2005 09:03:00 AM

Monday, May 02, 2005
God's got the Hefty Bag

A story from the morning news that had Jo and I laughing... [emphasis mine]
Sunday morning, many Mifflin residents were "miffed" by the presence of some unexpected help in their cleanup efforts. [you know the news was just waiting for a place to sneak in that "miffed" part]

"It's been kinda fun. There were a couple people who were kinda comin' outta their place with garbage bags and we said, 'Hey, head back in, go to sleep, take a shower, do whatever you wanna do. We'll take care of the cleanup process for you,'"

About 45 people showed up along Mifflin around seven a.m., hoping to surprise residents when they awoke.

This marks the first time church members have coordinated such an event. They call it a practical way to show people God loves them.
So god wants to clean up after 20,000 university students party in drunken revelry? Really? He wants them to sleep in a take a shower instead of cleaning up their own mess? Did they feel god's love through their hangover? Personally, I think students should clean up their own beer cups and other partying garbage. Furthermore, I'd love to see Mayor Dave shut down the Halloween party. Last year they uprooted trees. This is inexcusable. What did the trees do to them? And Madison is practically under siege Halloween night, as I discovered on my way back from a blogger dinner last fall.

posted by knit wit | 5/02/2005 07:29:00 AM

Sunday, May 01, 2005
knitting news



Confession:

I haven't been knitting much. I have a bunch of works-in-progress that haven't advanced too far recently. Why? Well, I usually knit by TV/movie (either watching myself, or just hanging out with Jo while she watches). Since getting wireless, and since having tons of non-writing work to do (databases, websites etc...) I have been doing more actual work on the computer in our living room than knitting. This makes me sad, yes, but this semester has been all about getting work done whenever possible. But, I know I need to start knitting again. I need something to help me relax and shut down my brain when I am not studying/working/writing. I can imagine knitting on the canoe, while Jo reads, in the middle of a lake. This will help me to keep sane over the summer (to

"stay sane inside insanity"

as the line from

Rocky Horror

goes). So, to give my knitting motivation a boost, Jo and I went to the yarn store yesterday. And here is what I came home with!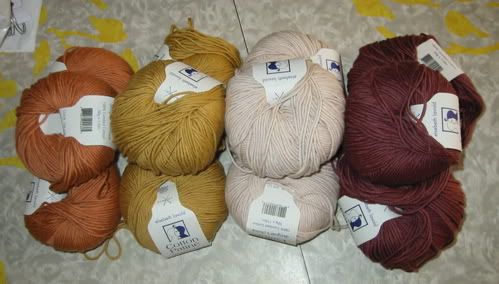 And don't the colors go with my blog so well? I didn't mean to do that- these are just the colors I love. Yummy,

yummy

Cotton Patine Designer's Choice yarn by Elsebeth Lavold in 4 beautiful colors. This yarn is so wonderfully soft and the colors are exactly what I had in mind. I am making a cardigan with it (yes, I know, I love making cardigans). I have a couple patterns to start me off, but mostly I am going to make it up as I go. I am going to knit it in the round so I can try it on along the way. This way it will really fit, unlike other cardigan patterns I've followed that needed a lot of blocking to make the arms and torso long enough. I don't know how the stripes will go yet though. I might have to use photoshop and/or my crayons to make up the striping pattern. But, before I start I am going to finish those pesky unfinished projects (um, knitting projects, that is). I swear.

posted by knit wit | 5/01/2005 01:59:00 PM