Sunday, May 01, 2005
knitting news



Confession:

I haven't been knitting much. I have a bunch of works-in-progress that haven't advanced too far recently. Why? Well, I usually knit by TV/movie (either watching myself, or just hanging out with Jo while she watches). Since getting wireless, and since having tons of non-writing work to do (databases, websites etc...) I have been doing more actual work on the computer in our living room than knitting. This makes me sad, yes, but this semester has been all about getting work done whenever possible. But, I know I need to start knitting again. I need something to help me relax and shut down my brain when I am not studying/working/writing. I can imagine knitting on the canoe, while Jo reads, in the middle of a lake. This will help me to keep sane over the summer (to

"stay sane inside insanity"

as the line from

Rocky Horror

goes). So, to give my knitting motivation a boost, Jo and I went to the yarn store yesterday. And here is what I came home with!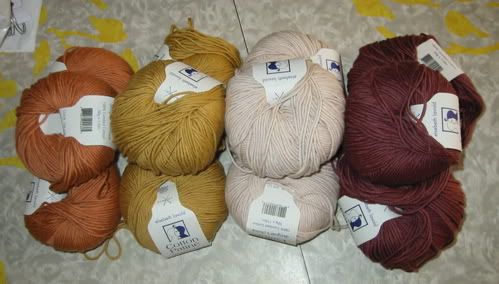 And don't the colors go with my blog so well? I didn't mean to do that- these are just the colors I love. Yummy,

yummy

Cotton Patine Designer's Choice yarn by Elsebeth Lavold in 4 beautiful colors. This yarn is so wonderfully soft and the colors are exactly what I had in mind. I am making a cardigan with it (yes, I know, I love making cardigans). I have a couple patterns to start me off, but mostly I am going to make it up as I go. I am going to knit it in the round so I can try it on along the way. This way it will really fit, unlike other cardigan patterns I've followed that needed a lot of blocking to make the arms and torso long enough. I don't know how the stripes will go yet though. I might have to use photoshop and/or my crayons to make up the striping pattern. But, before I start I am going to finish those pesky unfinished projects (um, knitting projects, that is). I swear.

posted by knit wit | 5/01/2005 01:59:00 PM