Wednesday, May 04, 2005
Minerva

The new G5 imacs came out yesterday, so I took advantage of an amazing deal and ordered one of the original models!! I used apple financing, and with extra money I am making this summer I will be able to pay it off by August. It is about time Jo and I moved up in the computing world. Sure, my ibook, Agatha, is great for me to do general work on, but it is really not suitable for more processor-intensive webdesign, photoshop stuff and for music stuff. My ibook's hard drive space is also pretty much maxed. The new imac will not only make webdesign much faster for me, but Jo can start mixing, producing, and mastering her own music, instead of relying on others to do this.

And

we'll have a dvd burner- oh the joy! I also haven't had a desktop computer since my performa that I got before I went to college, 10 years ago. So, having a desktop again will be very exciting! Did I mention it ships with Tiger? My sister understands how amazing this purchase is- she said she almost wanted to cry tears of joy when I told her about my purchase yesterday. The new imac's name is Minerva and she arrives Friday or Saturday.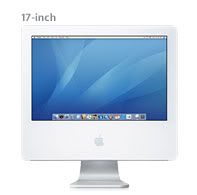 posted by knit wit | 5/04/2005 09:03:00 AM