grad school, politics, knitting and other meanderings. And not enough time for any of it.
: : email knit wit : : knitmemoretime@gmail.com
---
Sunday, May 22, 2005
okay- we do love a couple things about Madison

We went out paddling this morning, fortunately before it became so windy as right now everything outside is just blowing around. It was a wonderful early morning canoe trip- only about an hour- just enough to make me feel that spending the rest of the day inside at my desk is justified by some fresh air and exercise. We also managed to get out before a lot of other paddlers did. We had the creek to ourselves, and on our way out to Lake Monona we saw tons of turtles, ducks, baby ducks, and both the green heron and the blue heron. We can never seem to get a picture of the turtles. They move into the water too fast. There is one turtle large enough to be considered the creek's monster- I saw his head poke out of the water last time we went out and it was so large it scared the crap out of me. This time I saw him on the edge of the water, and at first I thought he was a rock and a thick branch, then he moved into the water and swam away. Someday we'll try to paddle even more silently through that part of the creek so we can sneak up on him and snap a picture. Here is the blue heron. We've seen him outside our place before too. He is an impressive bird- graceful and beautiful. You can tell from this shot how close he let us get.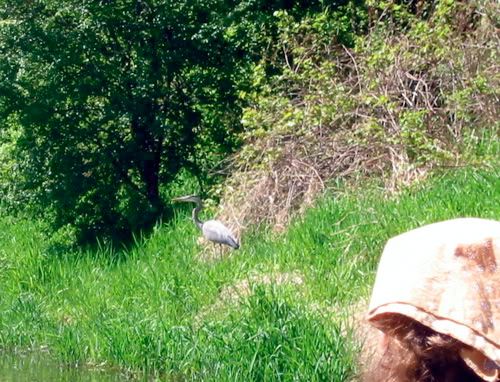 And eventually he flew away, but I got this shot of his huge wingspan.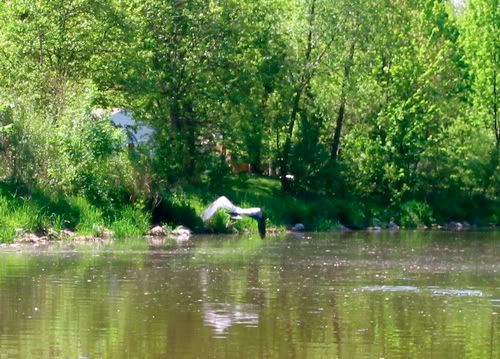 We also saw quite a bit of the green heron. I think there may be 2 as one looked larger than the other. Both of the following shots are of the smaller one. He was very hard to get a clear picture of as he kept flying away!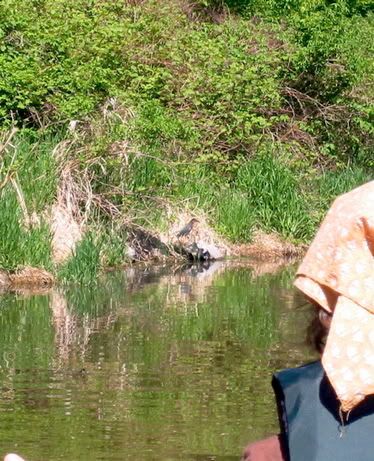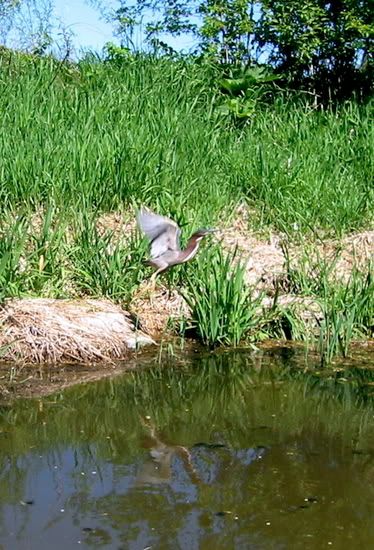 Jo and I just

love

paddling. We meet great people too. Today we met a couple who puts in up at the Yahara River and then joke about paddling to Thailand in 40 minutes (they mean to the Thai Pavilion on the creek, of course). Paddling right inside the city limits and putting the canoe in right outside our door is something we love about Madison. There are at least a couple other things we love about Madison (well I guess going to the co-op and picking up our vegetables). Anyway, I am actually writing now. I'm not even working on a paper due at the last possible minute. I am actually working on my article. I know,

holy crap

. I don't know where the motivation is coming from but I am running with it.

posted by knit wit | 5/22/2005 01:15:00 PM