grad school, politics, knitting and other meanderings. And not enough time for any of it.
: : email knit wit : : knitmemoretime@gmail.com
---
Sunday, May 08, 2005
yeah, yeah...

Why haven't I posted in a few days? I've been busy being a total computer geek, that's why. My new imac arrived early Saturday morning! Here is the unpacked box in the living room with Tiger ready to be installed. The Bean, our cat, is pretty curious about the imac. Well, actually cats are generally interested in any box or paper bag.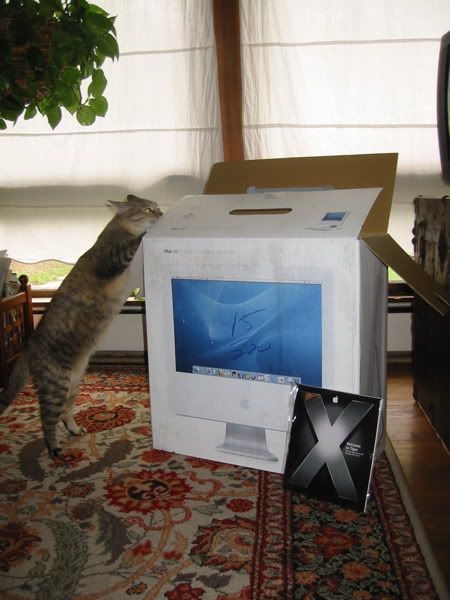 Just moments later, here is my imac (did I mentioned she is named "Minerva"?) booting up for the first time on my desk! Although I did clean off my desk that morning, the imac actually nicely hides some of the clutter. Note that the mouse is not the one that came with the computer, it's just an extra mouse I had. I love apple but I hate the mice. The terrible thing is sitting in my drawer lacking a 2nd mouse button and a scroll wheel. Anyone want it? I need to order a better one...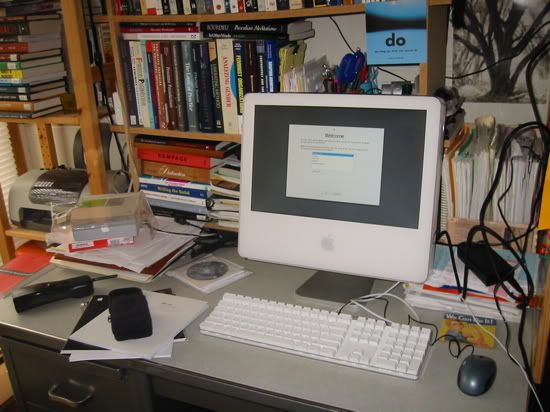 Needless to say I spent most of the weekend fooling around with the new computer. This is a seriously nice computer. I am not usually impressed by the "insides" of computers, but when I opened up the back to install the airport card I was impressed. The computer is super fast even though I have every application open that one could imagine right now. I had to install Tiger, play around with the new features and then I had to install various apps and transfer stuff from my ibook. Now Minerva is really up and running (and I am getting some work done, well, not this second). I didn't spend all weekend sitting at my desk (just most of it). We went out canoeing today for nearly 2 hours. There is something deceitful about canoeing. When we are paddling around, and I don't feel any kind of fatique. Actually, I don't even feel like I am working out although I am. Instead, the full impact of canoeing hits my body after we get out of the water. Today it was my legs. Legs? I was paddling, not running. My arms and shoulders are feeling it a little more now. And the sun was pretty strong. I almost passed out in Woodman's afterward. We went right after canoeing and I felt so much like I did that time when I was 15 and spent a day at the beach without eating or drinking much (I passed out), that I grabbed a bottle of Gateraid off the shelf and drank it. I need to remember 2 things about canoeing: (1) drink plenty of water during and (2) eat lunch first. My mistake, I think was going out having only eaten 2 pieces of toast.

posted by knit wit | 5/08/2005 09:05:00 PM