grad school, politics, knitting and other meanderings. And not enough time for any of it.
: : email knit wit : : knitmemoretime@gmail.com
---
Thursday, June 16, 2005
Henderson's Greenhouse

One of the things that fascinates me about small towns is the history that surrounds so many of the houses, buildings and places. And I am not talking only about the kind of history that might wind up in the town's historical society, but the kind of history that intersects with generations of families, town legends, and people's personal history. This history is the kind of history that makes Bath a community- that makes me know the place even 10 years after living here just by driving around. So, I'll give you an example of a building steeped in such history. This is the old Henderson's Greenhouse on North Street.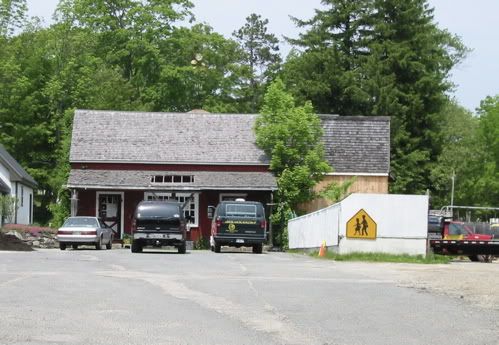 I guess now it is a daycare. When it was a greenhouse, the white structure on the right was the glass greenhouse. I didn't even know all of this history until I had my mom drive me by to take a picture and she told me more. My Nana had a best friend, Murphy (yes, somehow that is a woman's name. Mom isn't sure if this was her real name or not) who I vaguely remember from when I was little. Murphy, I guess, worked at the greenhouse when it was owned by Mel Henderson. Mom thinks that is maybe how Nana met Murphy. Nana used to get all her flowers for Eastern Star* at the greenhouse. I guess Nana also used to make cookies** for Mel and his boyfriend/partner. When I was born (near easter), my dad stopped at the greenhouse and made Mel sell him the huge stuffed bunny on display in the window. I remember going to the greenhouse for different things when I was very young. They also had antiques that they sold in the back and I think I used to go their with Grammy (my father's mother) to look at them. I remember Mel's Greenhouse mostly from high school. Our theatre director, Mrs. M. knew Mel and we would go there to borrow furniture and props for plays. We used to walk through the many back rooms of antiques with Mel and Mrs. M. would pick out different things for our plays. Well, during my junior year in high school Mel Henderson was shot and killed right in the doorway of the greenhouse by a young man who had worked for him. It was pretty well known in town that the reason for the murder was because Mel was gay. There were never-proven allegations of sexual molestation, and it came out in trial that the murderer was mentally ill. After that, the greenhouse stayed open for a while, run by Mel's partner. It was closed for years, and now it is daycare center. I guess that is probably more of a history than most places in Bath have! Tomorrow I'll post pictures of our famous landmark, Looney Lagoon.

* Yes, Eastern Star is truly a creepy Mason thing. My aunt and grandmother were very involved in it for many years, holding offices with titles like "Worthy Grand Martha." The Masonic Temple here in Bath was sold recently (too expensive to heat) and is going to become (Bath's first?) art museum.

** My Nana made cookies for everyone she truly liked. She made especially amazing Snickerdoodles and Ginger cookies.



posted by knit wit | 6/16/2005 07:32:00 AM