grad school, politics, knitting and other meanderings. And not enough time for any of it.
: : email knit wit : : knitmemoretime@gmail.com
---
Friday, June 17, 2005
Looney Lagoon

Looney Lagoon is one of those strange local landmarks that has been there forever and is actually pretty creepy. It is on the Old Bath Road between Brunswick and Bath. I've never actually seen anyone stop and look at it, as if it were a tourist destination. I stopped once and looked around a little during high school. At the time the water in the lagoon was pretty low, and I noticed that painted on the bottom of some of the "characters" was "666." Well, this just made the lagoon even creepier. I don't know much more about it. I guess the guy mowing the lawn in the last picture might be the owner/proprietor who lives near the lagoon. The lagoon in all its looniness: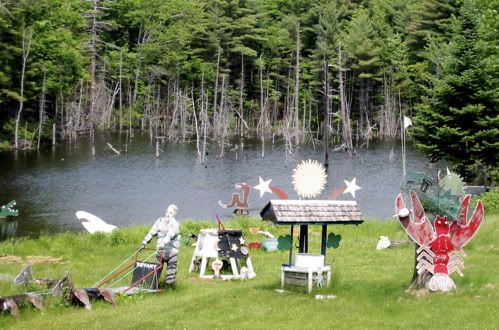 Another picture showing the variety of "characters" surrounding the lagoon: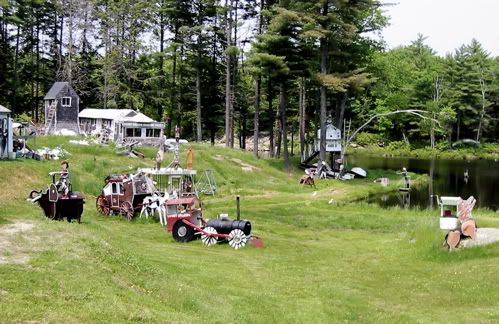 Here is the picture with the guy mowing in it. This shows the other side of the lagoon.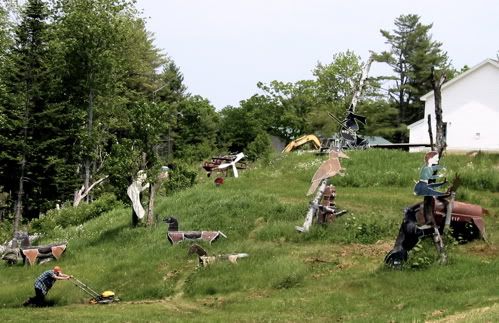 I am heading back to the Midwest early Sunday morning. I haven't checked my work email account yet so I'm probably in for a zillion emails on Monday. I've gotten a fair amount of prelim studying done. Not as much as I imagined (I brought some methods books, but I am still on theory) but I am finally getting into the swing of it and while I am developing Reba's Twitchy Eye Prelim Syndrome I am doing pretty OK at remaining relatively calm for now. But, you might not want to be anywhere near me in July. I'm just warning you... Well dad is home today and is going out to get

lobstah

for dinner! So, I'll get my butt off the couch now and get in the shower. Enjoy the Looney Lagoon pics!

posted by knit wit | 6/17/2005 07:29:00 AM