grad school, politics, knitting and other meanderings. And not enough time for any of it.
: : email knit wit : : knitmemoretime@gmail.com
---
Saturday, June 11, 2005
reunion weekend

Bath is quite a bit more busy than usual this weekend, with hundreds of Morse High School alumni in town. Last year was a little more festive, with the parade and all, but this year businesses still have "welcome home alumni" signs in their windows. I went shopping with my mother yesterday for a dress for her to wear to her reunion (it is her 35th). I am really not the person to take dress shopping as I generally don't like dresses and by the time we found one, and then went shoe shopping I was too disgusted with the tiny little high-healed things to even pay attention to them. So she has a pretty cool dress and still has to get shoes today. She and I also have a bet going that everyone wears dresses to their reunion. I am wearing my "conference" outfit as I am very comfortable in it. It is (*gasp*) pants and a linen shirt. I even wear (*gasp*) a necklace with it. I know Jony is wearing cords and birks. I wonder if everyone else tonight will be all glammed out. That would really be funny if that were the case. So today we are heading to a huge yard sale. Bowdoin College collected all the stuff students left behind after moving out and is selling it for charity. Should be kind of interesting, I guess. And then the rest of the day I'll get some reading done and then head off with Jony for the reunion later. I'll take pictures with my dad's camera and post them later. For now, here is a picture of the inside of my Nana's house which was sold last week. It was in the family for generations so it is very strange to drive by it. This is the kitchen, the cabinets were made all by hand by a relative who used to work on cabinets in ships. This is not how I remember it as it is all cleaned out and empty. I have a wonderful picture somewhere of my Nana ironing in her kitchen, totally unaware I was taking a picture. When I find that one I'll post it to.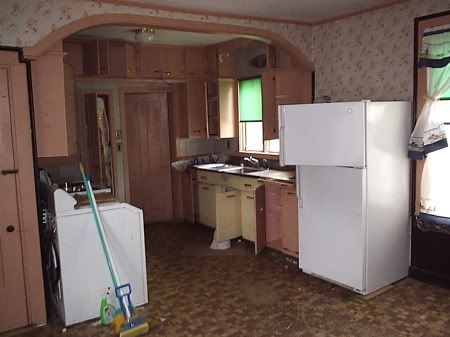 posted by knit wit | 6/11/2005 06:45:00 AM