Thursday, June 02, 2005
semi-urban exploration

I am fascinated by urban exploration. When I lived in NY I was always drawn to the oldest details of the city- the oldest houses and taverns, the old subway trains and lines, the smooth cobblestone streets on the lower West side and the old houses found below West 4th St. I also love abandoned places others might dismiss as kind of creepy- abandoned buildings and cemeteries. On my commute to school I passed the entrance to the abandoned King's Park Asylum. I used to stop there and wander around the huge grounds and peak in the windows of the buildings. Pilgrams State and the soon-to-be torn down Danvers State are among my other favorite modern ruins. It is some combination of the history, the architecture, and the atmosphere that draws me to these places. Anyway, there isn't much in the way of urban exploration here in Madison. The old brick factory near us is actually being used to store supplies for the town- so it isn't

really

abandoned nor very run down. Who would have thought our canoe would bring us some semi-urban exploration opportunities? We have been exploring the various branches of Starkweather Creek. On Friday, we took the creek in one direction, and ended up going under East Washington in some

very freaky

, and not so pleasant tunnels. It was actually pretty terrible. I still think that beyond that section, the creek lets out into a pond in a park up by Wright St, but we were too creeped out to try to get there, so with the rushing traffic above us, we turned around and called it a day. There's something about looking up from your canoe to see a

MacDonald's

that is just really, really wrong. On Monday, we headed out on the creek in another direction- toward a farm. We had been up that way before, but not very far. Here's a little photo chronology of our adventures... The trip began as most do- some wonderful paddling under the bridge near our place.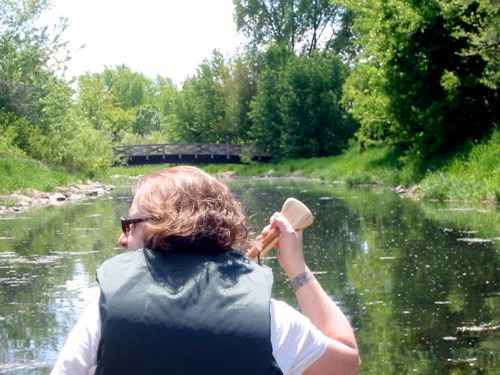 We noticed that the baby ducks we've seen on the creek for the past couple weeks are growing- although they are still staying close to their mother, who yelled at them to move away from us soon after I snapped this photo.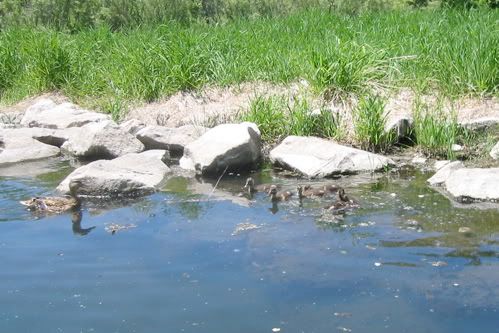 Turtles are a frequent site on the creek.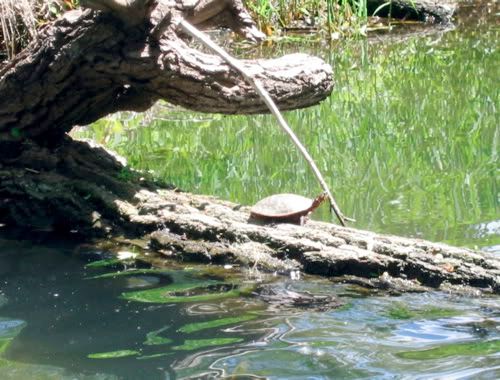 We headed down one not-very-wide branch of the creek (I had seen from the very cool satellite feature in google maps that there was a rather large pond in that direction). Well, we ended up in the middle of a large field, with a smallish tunnel in front of us. As we approached, a flock of birds started to really freak out, flying around us and making all kinds of noise. What was odd was that usually when a flock of birds is disturbed, they'll just fly away- these birds stuck around us in a fashion similiar to Tippi Hendren in The Birds. It was unsettling to say the least. I don't know what they were so upset about. Here is a shot of the tunnel we were thinking of going through. We decided that since the birds kept flying through the tunnel (see them?), there was no way we were going through it.
So, we got out of the canoe, and decided to lug it up over the tunnel to the other side. The birds still continued to freak out over head.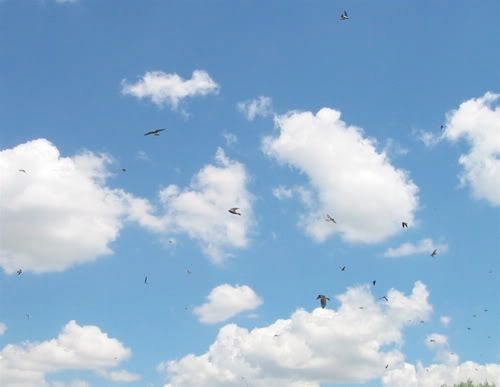 Instead of dropping the canoe in on the other side, I decided to walk to check out if doing that was going to be worth it. The field we were in was filled with old rusty farm equipment and was really kind of creepy and cool, not unlike the old abandoned buildings I love.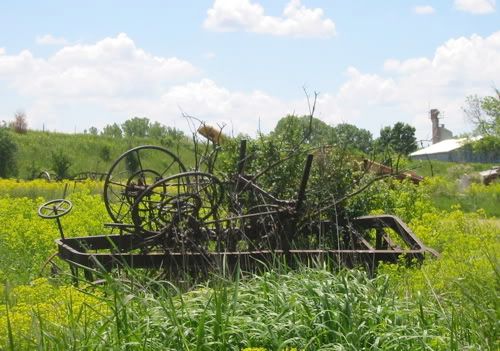 I walked for a ways and found this beautiful, remote pond.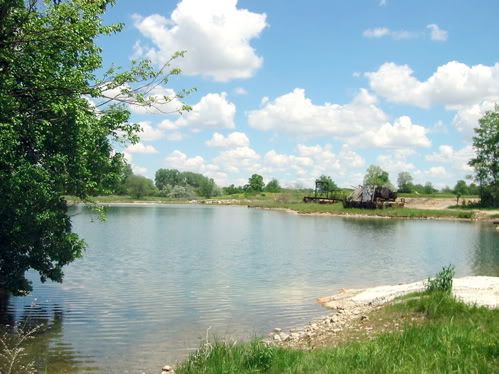 But, then before the pond I noticed not only a

huge

"no trespassing" sign, but a wall across the water. We decided that was way too much to bother with so we put the canoe back in the little creek-branch, and paddled away.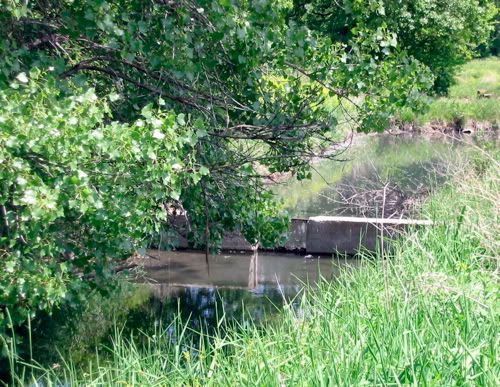 We followed the main branch of the creek further. I think this is really somewhere near Fair Oaks Ave, but from the wilderness around us, it is really hard to tell we aren't out in the middle of nowhere.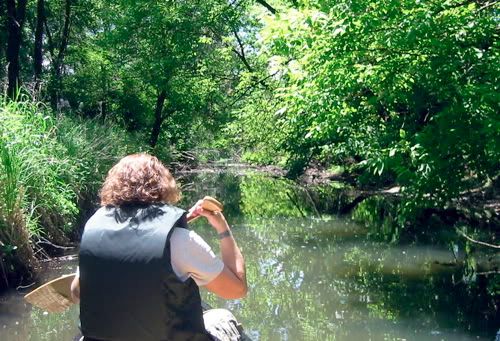 Beautiful lillypads have sprung up everywhere. But, no frogs. We see turtles everywhere, but no frogs.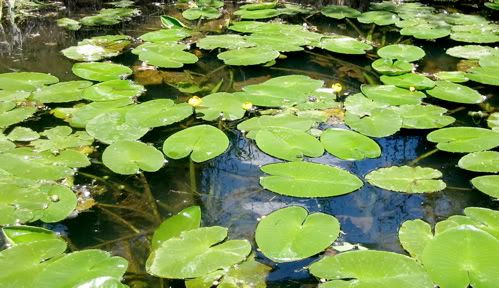 Alas, we reached the end of this branch of the creek too soon. Whoever put these little, super-tiny tunnels under whatever highway that is wasn't thinking of the paddlers who might come by! Thwarted, again, we turned around and paddled the whole way home. Next time I think we'll try going back out to Lake Monona, and if the speedboats stay away, maybe we can make it to the Yahara river.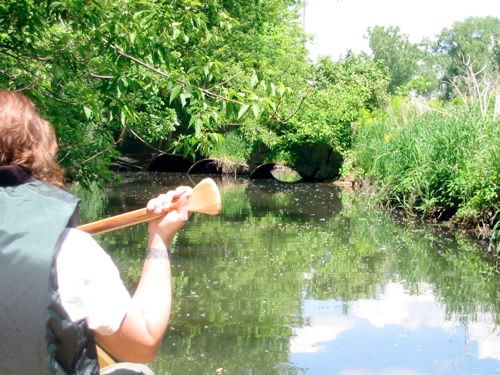 posted by knit wit | 6/02/2005 06:48:00 PM